Ladies, put on your game faces and lace up those sneakers – we're talking about the ultimate secret to dominating your next CrossFit class: shoes! But not just any shoes, we're talking about the CrossFit shoes made specifically for women.
If you're a fan of high-intensity interval training, Olympic lifts, and all-around sweating, you need a pair of crossfit shoes that can keep up with you. In this article, we'll break down all the reasons why crossfit shoes for women are a game-changer for any fitness enthusiast.
And the short answer? These shoes are so good, you won't want to take them off, even after completing your WOD. Keep reading to find out why.
Our team of savvy editors has carefully handpicked the list below, and some products may have been sent to us as samples. But don't worry—every opinion in this article is our own! If you happen to purchase any item from this article, ArticleFortress will earn a share of sales or other compensation (which helps keep us up and running!) Reviews have been edited for brevity and clarity, so you can quickly find your new favorite thing! Enjoy exploring what we've got for ya!
Choosing the Right Pair
If you're a woman who loves CrossFit, one of the most important things you need to consider is your choice of shoes. Not all shoes are created equal, and the wrong pair can have a negative impact on your performance, comfort, and safety.
Choosing the right CrossFit shoes for women is crucial if you want to achieve your fitness goals and stay injury-free.
Why Your CrossFit Shoes Matter
CrossFit is a high-intensity workout that combines a variety of different exercises, such as weightlifting, running, jumping, and more. As such, CrossFit shoes need to provide a unique combination of stability, support, flexibility, and grip to allow you to perform at your best.
Wearing regular athletic shoes or shoes that are not specifically designed for CrossFit could cause injuries, such as rolled ankles, sprains, or strains, and limit your range of motion.
Tips for Choosing the Best CrossFit Shoes for Women
When choosing CrossFit shoes for women, consider the following factors:
Durability and Quality
CrossFit shoes are an investment, and you need to make sure you're getting your money's worth. Look for shoes that are made of high-quality materials and are built to last. Consider the reputation of the brand and read reviews from other CrossFit enthusiasts to gauge durability.
Stability and Support
CrossFit involves a range of explosive movements, lifts, and jumps, which require shoes that offer stability and support. Look for shoes that have a firm midsole and provide ample support around your ankle and heel.
Flexibility and Comfort
Your CrossFit shoes need to be flexible enough to allow you to move freely during your workout. Shoes that are too stiff will limit your range of motion and make some exercises harder to perform. Look for shoes that offer a comfortable fit and enough cushioning to absorb shocks and impacts.
Traction and Grip
Finally, your CrossFit shoes need to provide excellent traction and grip, especially on slippery surfaces. Look for shoes that have a rubber outsole and provide exceptional grip, which will help you maintain your balance and prevent slips and falls.
The Bottom Line
When it comes to CrossFit shoes for women, there is no one-size-fits-all solution. It's crucial to take the time to research and try out different pairs of shoes to find the ones that work best for you and your unique needs.
Remember that investing in a quality pair of CrossFit shoes is key to staying safe, comfortable, and performing at your best.
We take the guesswork out of choosing the perfect CrossFit shoe for you. Our team reads through thousands of user reviews and star ratings to select a CrossFit shoe that will perform well, and fit within your budget. Plus, we pick vendors who offer great shipping offers and returns on all orders!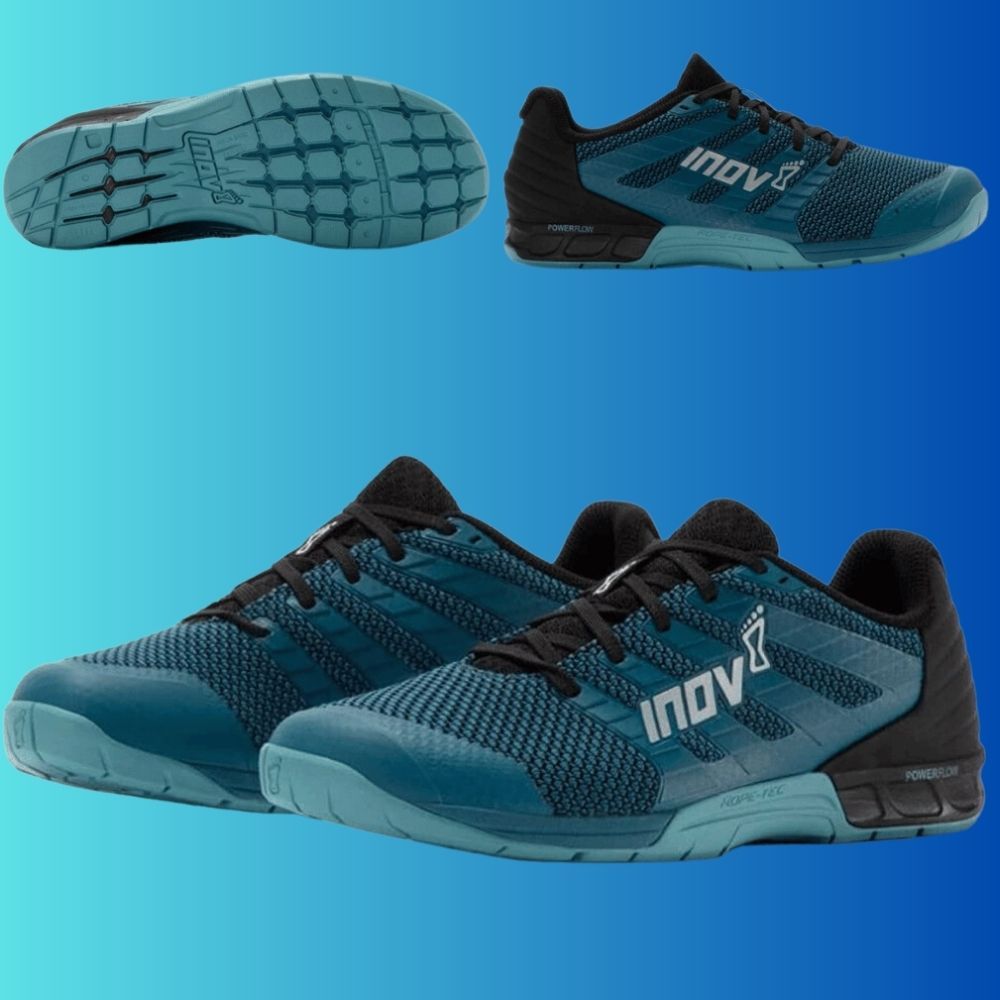 Best Crossfit Shoe for 2022
Check Price On Amazon
Why We Love It
Hey there, fitness fans! Check out the brand spanking new Inov8 F-LITE 260 V2 Knitted! This shoe is hot off the press and perfect for all you CrossFit addicts out there! Scott Panchick, a big shot CrossFit athlete, helped make this shoe absolutely dynamite for even the most demanding CrossFit workouts.
These shoes are like walking on clouds! They are super lightweight and comfy, with extra cushioning and support that will blow your mind! Plus, with the 8mm drop feature, your heels will always be in the best position during those heavy lifting sessions.
The knitted breathable upper also helps keep your feet cool and dry when things get intense, plus the toe box has plenty of room. Bonus: these bad boys are neutral running shoes too! You won't find better shoes for your WODs!
What You Should Know
Hey there fitness fanatic! Get ready to upgrade your CrossFit game with the new and improved F-Lite 260 workout shoe! This sneaker has got a fancy new "Met-Cradle" feature that is perfect for rope climbs.
Forget about the pesky rope burns because the mid-foot is completely protected while descending the rope. Plus, it's made with neutral running shoes technology to ensure a comfortable fit and prevent any damage from such training.
But wait, there's more! The shoe also comes with a toe bumper to save your toes during box jumps. And don't worry about a bulky shoe slowing you down.
This shoe has all the necessary features to keep you protected during intense workouts, while also being lightweight and less cumbersome.
The F-Lite 260 is wider to provide added comfort during all your quick movements, from jumping rope to box jumps.
This CrossFit training shoe is not just about looks; it's built for durability and longevity. In fact, it's considered to be the best CrossFit shoe of 222 – that's right, you heard it here first!
So, what are you waiting for? If you're ready to take your fitness to the next level, the F-Lite 260 is definitely worth checking out. Bring on the challenges – your feet are ready!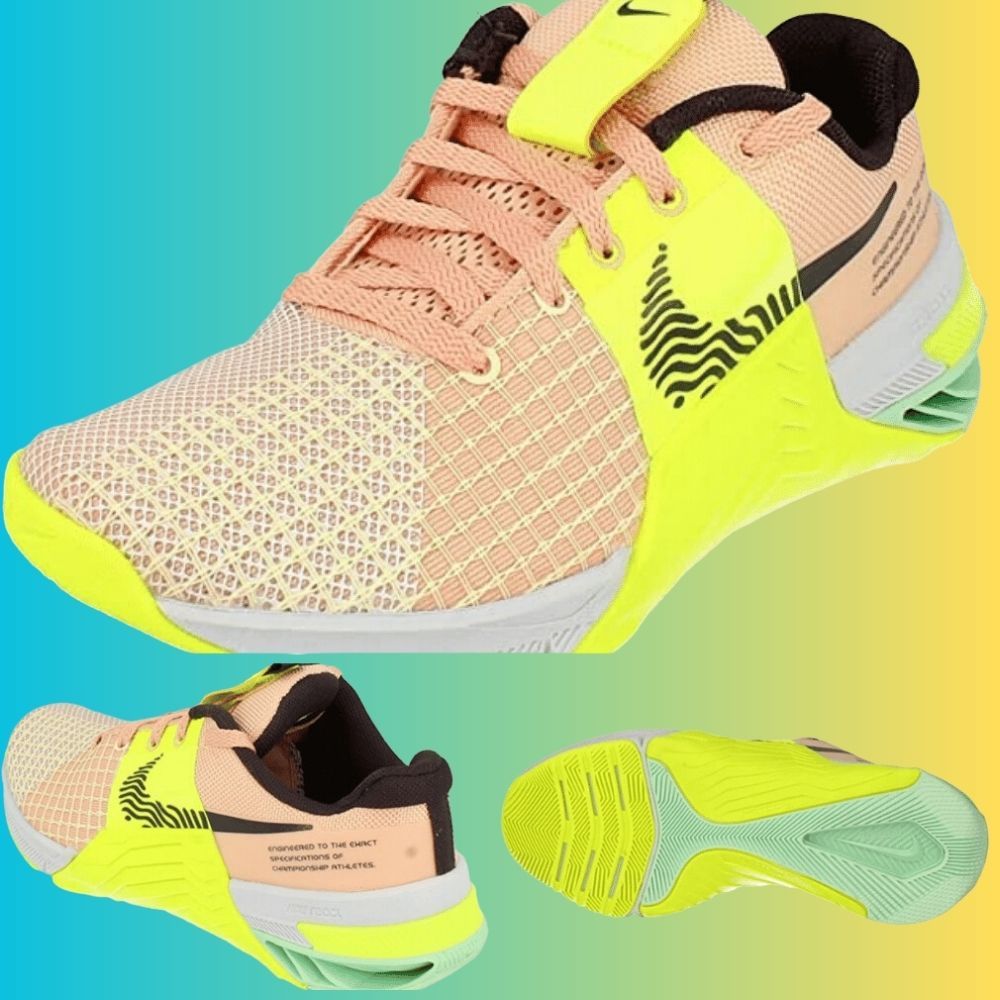 Best Shoe for Comfort
Check Price On Amazon
Why We Love It

Ready to take your CrossFit skills to the next level? Enter the powerhouse Nike Metcon 8 - the ultimate training shoe for taking on anything your workout throws at you.
With sturdy construction features, these sneaks offer unparalleled support & stability while you lift. Not to mention, the Hyperlift insert ensures you stick each box jump & tackle heavy lifts like a total boss.
And when it comes to comfort, the React Foam midsole has got your back with its ultra-responsive feel. No need to hold back - the Nike Metcon 8 is your perfect partner in keeping up with your intense workout routine!
What You Should Know

Hey, CrossFit fanatics! Looking for a training shoe that can handle your hardcore workouts? Look no further than the Nike Metcon 8! With its durable and comfy design, it's perfect for every athlete out there.
Plus, it comes with a midfoot rubber overlay that protects your feet during rope climbs and a synthetic toe overlay that makes sure your toes are safe during burpees, box jumps, and toe dragging movements. And let's not forget the toe box that's perfect for those movement-needing days.
The fit is excellent too, so you can focus on your workouts instead of adjusting your shoes. Don't forget to check out the neutral running shoes feature! In short, the Metcon 8 is the ultimate choice for any CrossFit athlete who wants a reliable and supportive training shoe.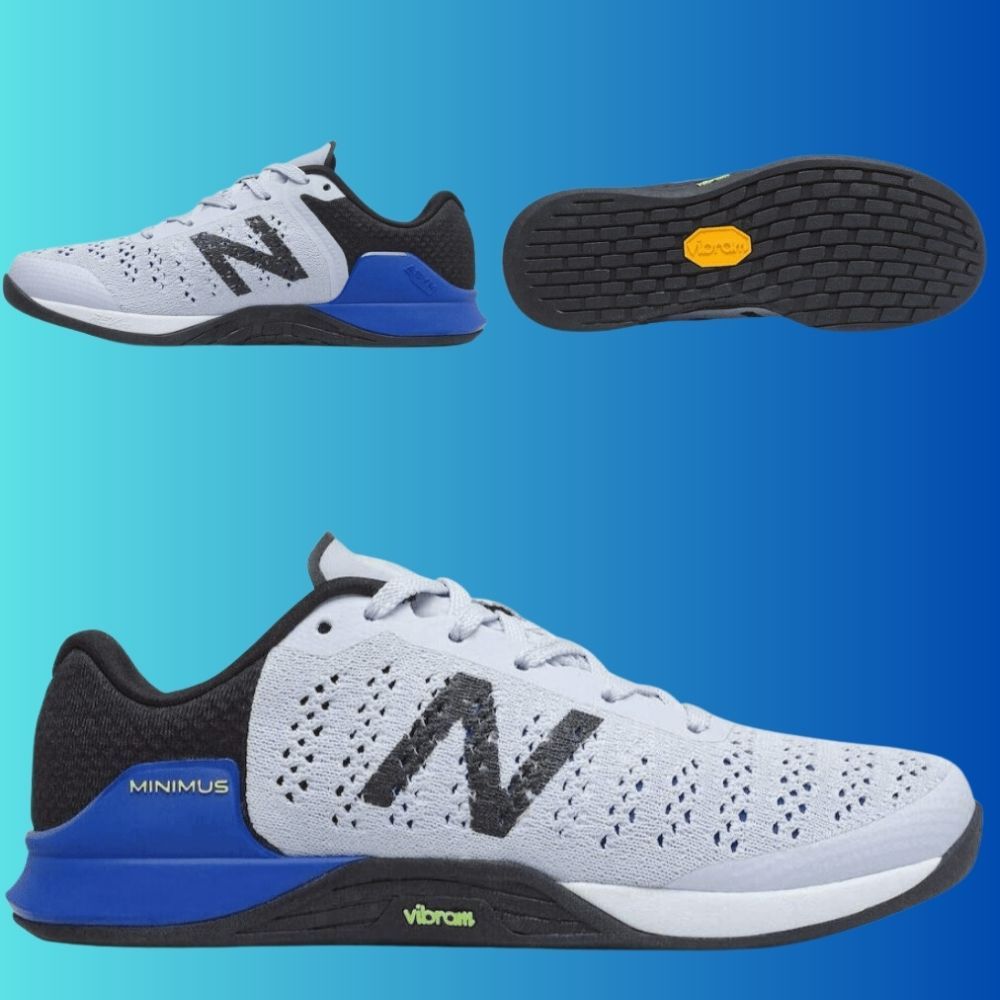 Best Crossfit Shoe for a Budget
Check Price On Amazon
Why We Love It

Hey there, fitness enthusiasts! If you're seeking the ultimate shoe for your CrossFit workout that feels comfortable as a fluffy unicorn, we've got a treat for you! New Balance Minimus Prevail 1 is the shoe that will keep your feet happy while kicking some workout butt!
These neutral running shoes are designed to be top-notch performers, but still have a minimalist feel, making them perfect for everyday use when you're done working out. Plus, they are made with high-quality and durable materials, allowing them to withstand even the toughest of athletic conditions!
With a thin midsole, you'll feel like you are as tactical as a ninja, sensing the ground beneath you with every step! Trust us, your feet and CrossFit trainer will thank you!.
What You Should Know

Hey there, shoe connoisseurs! Have you met the New Balance Minimus Prevail V1's? We're talking about the perfect pair of shoes for those who love to go hard on the gym floor without slipping during those burpee routines.
The outer sole is crafted with Vibram that ensures stability and gives you an excellent grip. But wait, there's more! The breathable upper mesh is made with thermoplastic polyurethane (TPU) fibers that provide the perfect combination of breathability AND style.
These neutral running shoes are so versatile, you can wear them with jeans and shorts without batting an eye. So, what are you waiting for? Get ready to dominate your workouts in style with New Balance Minimus Prevail V1's!
Women's Crossfit Shoes FAQs
You're considering buying CrossFit shoes, but you're not sure if they're right for you. You're definitely not alone. A lot of people are curious about this type of training shoe, their features, and difference from other shoes, but they don't know where to start.
We've put together a list of the most frequently asked questions about CrossFit shoes so that you can make an informed decision before you buy.
How Do I Choose Crossfit Shoes?
When looking for CrossFit shoes, you not only want to make sure you find a pair that has good stability, traction, and comfortable.
You also want to find shoes that meet the demands of the many types of CrossFit workouts. (Especially rope climbs) You will need to wear crossfit shoes for a while to break in.
Do Shoes Make a Difference in Crossfit?
Yes, shoes make a difference in CrossFit. Different types of shoes are designed for different purposes, and CrossFit requires shoes that provide stability, lightweight cushioning, lateral support, and side support to protect against rope climbs.
A roomy toe box also helps with comfort during quick movements. Those who wear CrossFit shoes after previously wearing a training shoe, immediately recognize the difference and improvement.
What Kind of Shoes do Crossfit Athletes wear?
CrossFit athletes typically wear shoes that are lightweight, durable, and have good traction.
Many athletes choose to wear shoes specifically designed for CrossFit, such as Inov8 F-Lite or Nike's Metcon over other shoes.
Choose a training shoe that is made to handle the demands of CrossFit workouts.
Can I Wear Running Shoes for Crossfit?
You could wear running shoes for CrossFit, but you might not be getting the most out of your workout, and may damage your running shoes.
Running shoes can be used for everyday wear, but CrossFit shoes most often can't.
If you're just starting out with CrossFit, it's ok to transition slowly by starting off with your normal running shoe, and gradually learn and experience the demands needed by the more challenging workouts.
That way, understand the need to choose a good CrossFit designed training shoe. If you have narrow feet, pick a shoe with a little more movement for your CrossFit journey.
What Should You Not Do in a Crossfit Gym?
First and foremost, never attempt any Olympic weightlifting movements or heavy lifting until you are properly coached. These heavy lifts can be extremely dangerous if done wrong. And of course, wear the proper shoes, haha!
Also, try to avoid dropping the empty barbell on the floor. This can damage the collars, and you will immediately be noticed by the other athletes. It's completely OK to drop the bar with weights on. They are designed to handle the drop. JUST NOT EMPTY!
Finally, always listen to your coach and follow their instructions! They know what's best for you and will help keep you safe during your workout.
What is the Difference Between Cross Training and Crossfit shoes?
Some key differences between cross training shoes for women and CrossFit shoes for women include:
CrossFit shoes tend to be more durable and have a thicker sole than training shoes, which makes them better suited for use in high-intensity and explosive movements.
CrossFit shoes often have a wider toe box than training shoes, which allows your toes to move more freely and gives you greater stability when performing complex movements.
Cross Training shoes are typically lighter and less durable than CrossFit shoes, making them better suited for lower intensity activities such as running and cardio workouts.
They are frequently designed for narrow feet. You need a little more room with CrossFit workouts.
Is Crossfit Good to Lose Weight?
CrossFit is an excellent way to lose weight because it combines high-intensity interval training with strength-training exercises.
The combination of these two types of exercises is ideal for weight loss because it results in a higher calorie burn than either type of exercise alone.
Furthermore, CrossFit is a very social workout, and it's often more fun than traditional cardio exercises like running or cycling.
Of course, your diet is just as important, or more, than the exercise you will be doing. You can't outwork a bad diet!
Are Crossfit Shoes Worth It?
There's no one-size-fits-all answer to this question, as the value of a training shoe depends on your individual needs and preferences.
However, in general, CrossFit shoes offer several benefits that other types of shoes don't.
First, CrossFit shoes are designed specifically for high-intensity workouts. They have thicker soles than regular sneakers, which provides more support and stability when you're performing exercises like burpees or box jumps. And, rope climbing will destroy the soles of regular shoes.
Second, CrossFit shoes are typically made from stronger materials than regular sneakers. They will last a long time, but are not great for everyday wear.
Thoughts on Crossfit Shoes For Women

As we reviewed the best CrossFit shoes for women, there were many CrossFit shoes on the market.  We've personally reviewed hundreds of articles and reviews to find the best shoes for you to use whether you are a beginner or skilled athlete.
After careful consideration, We've compiled this article listing the top three CrossFit shoes that provide excellent support and stability during workouts.
If you're looking for the best CrossFit shoes for women that will help you take your workout to the next level, check out our selections below.
Click the "Check Price on Amazon" buttons above to see pricing and select the perfect shoes for you!
Extending the Lifespan of Your CrossFit Shoes for Women
Your CrossFit shoes for women are a valuable investment, and you want to make sure they last as long as possible. Here are some tips to help you care for your CrossFit shoes and keep them in good condition:
Cleaning Your CrossFit Shoes
First and foremost, it's essential to keep your CrossFit shoes clean to prevent damage and odors. Always wipe them down with a damp cloth after each workout to remove dirt, sweat, and grime. If your shoes are exceptionally dirty, use a mild soap and lukewarm water to clean them before letting them air dry.
Avoid Machine-Washing or Drying Your CrossFit Shoes
Machine-washing or drying your CrossFit shoes can damage the materials and weaken the structural integrity of the shoe. Instead, clean them gently by hand as described above.
Air-Drying Your CrossFit Shoes
Never place your CrossFit shoes in the dryer - this will destroy the materials and shorten the lifespan of your shoes. Instead, air-dry your shoes by stuffing them with newspaper or a towel to wick away moisture. Place them in a dry and well-ventilated area, away from direct sunlight.
Rotate between Pairs of Shoes
If you work out daily, consider investing in multiple pairs of CrossFit shoes for women. This will allow you to extend the lifespan of each pair by rotating them every few days, giving them ample time to dry and regain their shape.
Store Your CrossFit Shoes Properly
To prevent damage and extend the lifespan of your CrossFit shoes, store them correctly. Keep them in a cool and dry place, away from moisture and direct sunlight. Avoid cramming them into tight spaces, which could warp the materials and destroy the structural integrity of the shoe.
Replace Your CrossFit Shoes When Needed
No matter how well you take care of your CrossFit shoes, they will eventually wear out. When the soles are worn down and no longer provide the support and grip you need, it's time to invest in a new pair of shoes. Wearing worn-out or damaged shoes can cause injuries, so don't hesitate to replace them when necessary.
The Final Word
Taking care of your CrossFit shoes for women is easy and straightforward, and the benefits are well worth the effort. By following the tips above, you can extend the lifespan of your shoes, get the most out of your investment, and perform at your best.
---