If you're a woman who loves running outdoors, then you need a good pair of trail running shoes.
Trail shoes are designed to provide better traction and stability on technical terrain than regular running shoes. They often have thicker soles and more aggressive tread patterns to help keep you safe while running on trails.
A good pair of running shoes can make all the difference when you're out for a run in the woods or mountains. They can help you stay safe and comfortable no matter what kind of terrain you're tackling.
Check out our selection of the best trail running shoes today! We've got something for everyone, so you're sure to find the perfect pair for your next outdoor adventure.
Our team of savvy editors has carefully handpicked the list below, and some products may have been sent to us as samples. But don't worry—every opinion in this article is our own! If you happen to purchase any item from this article, ArticleFortress will earn a share of sales or other compensation (which helps keep us up and running!) Reviews have been edited for brevity and clarity, so you can quickly find your new favorite thing! Enjoy exploring what we've got for ya!
How We Choose The Best For You
Because you're looking for the best option for running shoes for women, and overwhelmed by all the different options on the market, we have done some work for you!
Our expert reviewers have spent hundreds of hours reviewing the best shoes for your needs. By reading our guide, you'll be able to make an informed decision about which of the best trail runners are right for you.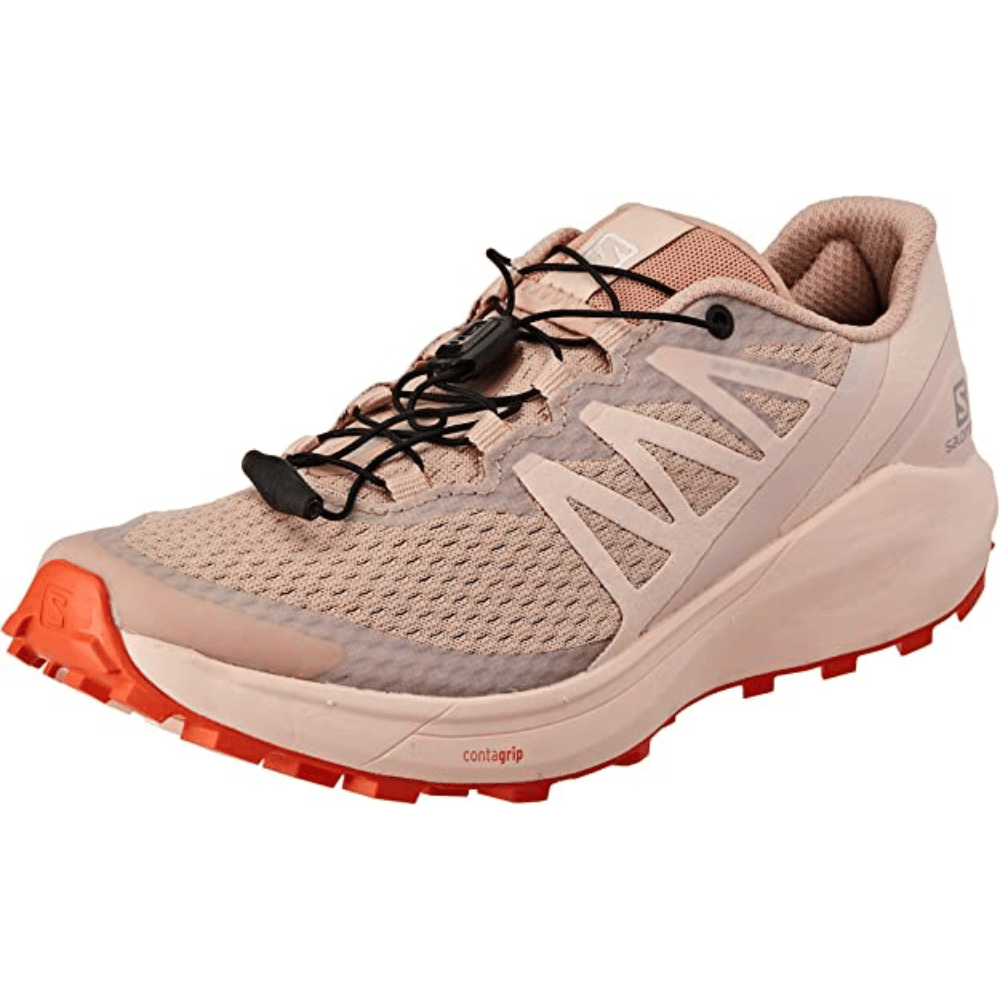 Best Overall
Check Price On Amazon
Why It's a Top Pick:

Looking for a responsive and lightweight ride that still provides cushioning and protection? Look no further than the Salomon Sense Ride 4!
With Optivibe foam to absorb vibrations, you'll be able to stay on your feet longer without fatigue. The upper combines precision foothold fabric, resistant fabrics and anti-debris mesh, so you can stay safe on any terrain.
And don't worry about losing your grip—the Contagrip® outsole will make sure you stick to whatever surface you're walking or running on.
Things to Know:

This Salomon is an all-terrain running shoe designed to provide a smooth and stable ride.
The outsole is made of All Terrain Contagrip®, which delivers durability and confidence on wet, dry, hard, or loose surfaces.
The midsole contains Optivibe™ technology, a combination of foams that reduce vibration upon foot strike in order to decrease muscle fatigue.
The upper construction is SensiFit™, which cradles the foot from the midsole to the lacing system for a snug and customized fit.
The midsole also contains Profeel Film, which gives your stride a smoother and more stable feel by acting as a filter between you and the terrain.
Finally, the upper construction is EndoFit™, an internal fit sleeve designed to hug the foot in exactly the right places and provide a precise fit.  
This trail shoe is a winner!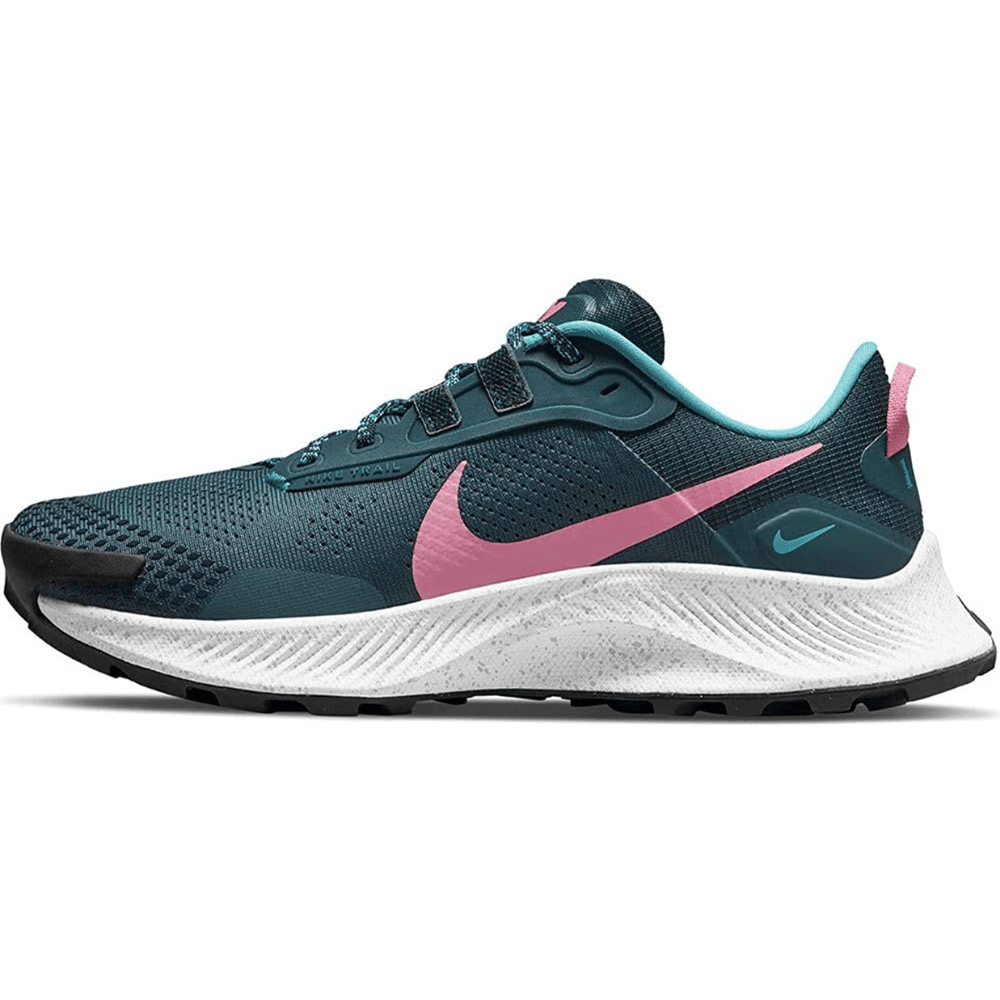 Best From Nike
Nike Pegasus Trail 4 Gore-Tex
Check Price On Amazon
Why It's a Top Pick:

Nike's Pegasus Trail 4 GORE-TEX running shoes for women were designed with the modern trail runner in mind.
These waterproof shoes provide protection against unexpected weather conditions, allowing you to run harder and longer without fear of getting wet.
The higher ankle gaiter provides additional coverage, so you can stay dry even if your run takes you off-road.
With Nike's trusted quality construction, you can be confident that these shoes will perform when you need them most.
Things to Know:

As someone who loves to run, it's important to have the right gear to make the experience as safe and comfortable as possible.
The Nike React Pegasus Trail Running Shoe is perfect for those who love running on both trails and roads.
The shoe has a GORE-TEX layer that helps keep out water, so your feet stay dry, and the all-new gaiter at the collar is higher to help keep extra debris and water from getting inside your shoe.
Additionally, Nike React technology provides a lightweight, durable foam that delivers a smooth, responsive ride, while less rubber along the outsole creates a smoother transition from road to technical trails.
And finally, the generative traction pattern combined with rubber nubs gives this trail shoe grip when going uphill, downhill, on wet rocks or dry terrain.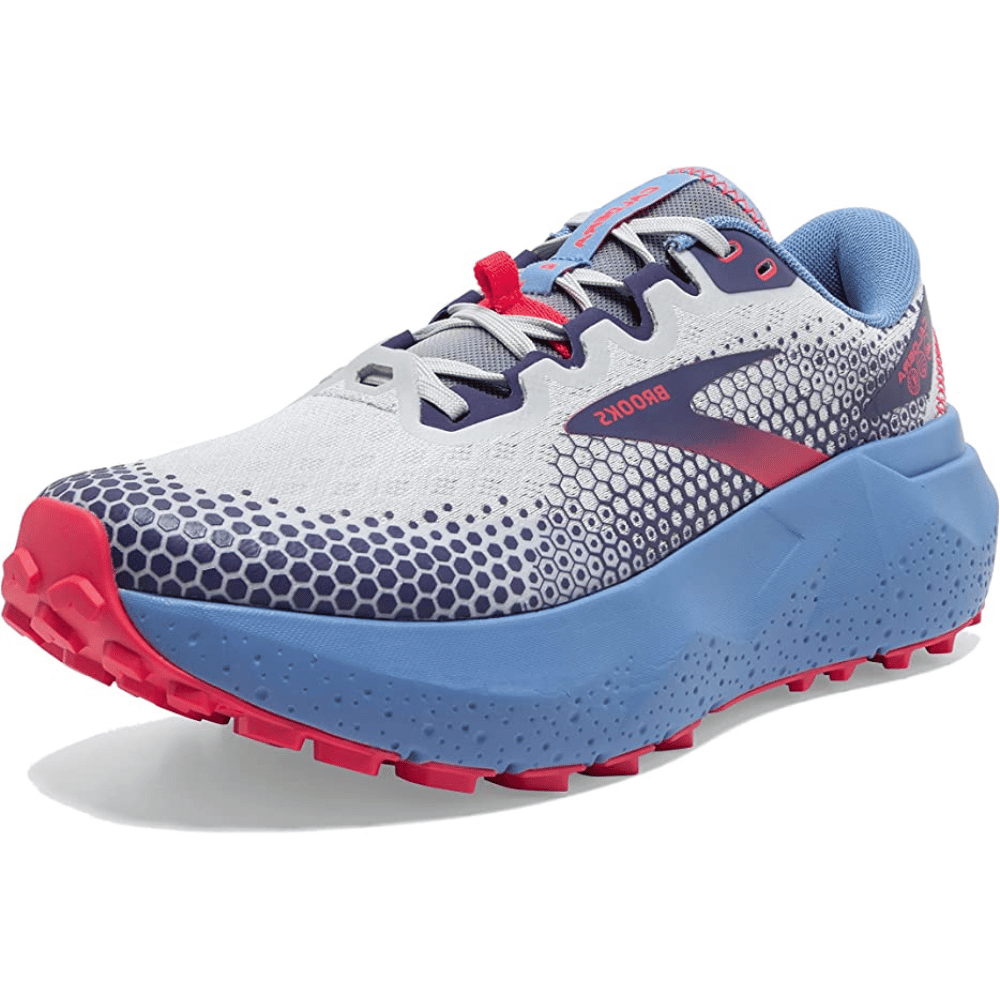 Best Road To Trail
Check Price On Amazon
Why It's a Top Pick:

Cruisin' for a bruisin': take on the trails with our new Caldera 6 – perfect for mile- after-mile comfort, with grippy soles to keep you upright on tricky terrain.
This is a shoe for the long run: take on muddy, technical trails and stay breathable with our Caldera 6.
Things to Know:

Nitrogen-infused DNA LOFT cushioning is featured in the new version of the Brooks Adrenaline GTS trail shoe. The cushioning has been optimized to be lightweight, responsive, and durable with plush comfort.
This innovative nitrogen infusion process lets Brooks fine-tune the softness with careful precision, so they never sacrifice weight, durability, or responsiveness. The cushioning technologies all start with DNA because they react to your unique stride.
Redesigned midsole and outsole feature raised side walls and a widened platform to hold your foot securely for a stable ride. TrailTack rubber outsole offers excellent traction on wet or dry surfaces.
TPU toe cap protects toes from rocky terrain while a Comfortably Secure Fit ensures that the upper holds your foot securely without sacrificing breathability.
These shoes are awesome!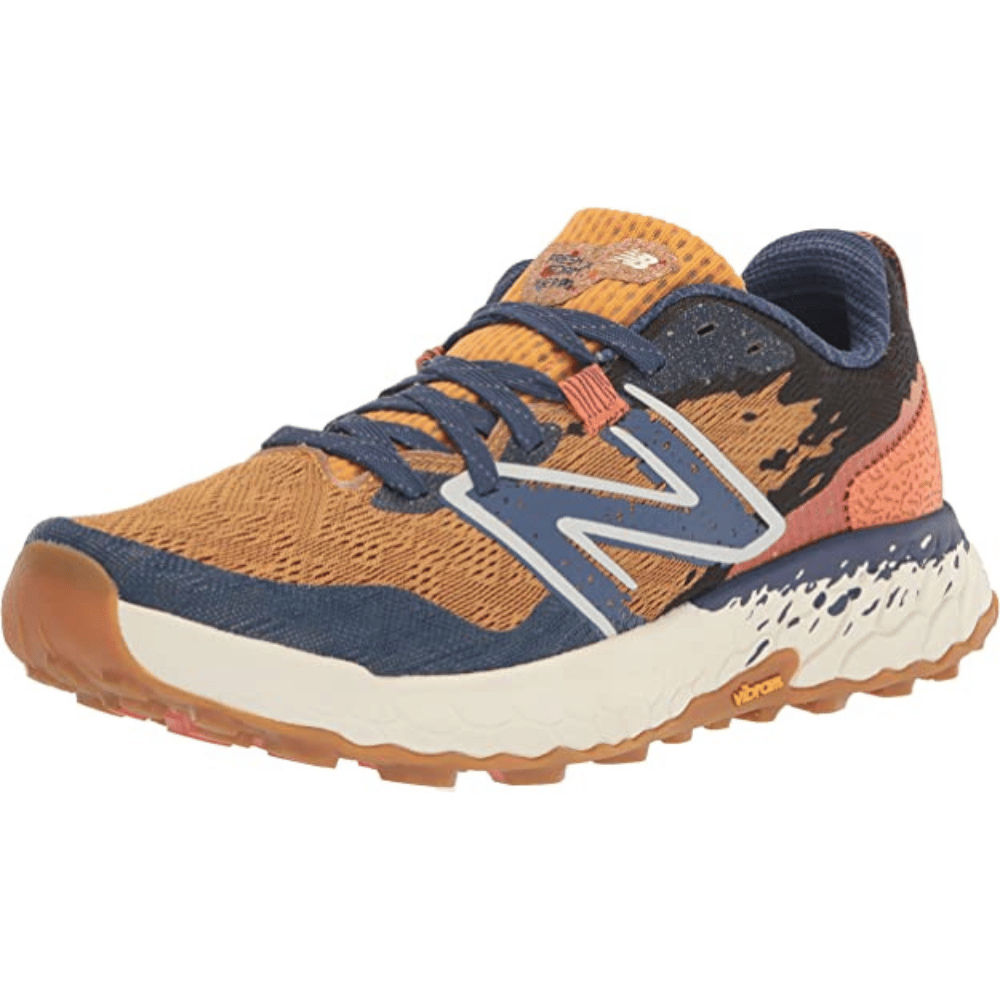 Best Budget
New Balance Fresh Foam X Hierro v7 GTX
Check Price On Amazon
Why It's a Top Pick:

Looking to explore the great outdoors but don't want to sacrifice your sneakers? Look no further than the Fresh Foam X Hierro.

This bad boy is designed specifically for taking on rough terrain, with a Vibram® Megagrip outsole and GORE-TEX waterproof lining to keep your feet protected on even the most rocky trails.
Plus, with our signature Fresh Foam X cushioning, you'll be able to keep going all day long. So lace up your Fresh Foam X Hierros and explore what nature has to offer!
Things to Know:

The Fresh Foam X Hierro v7 GTX trail shoe is perfect for anyone looking for a protective, reliable, and stylish shoe to take outside.
Featuring a GORE-TEX lining to protect from the elements and Vibram MegaGrip lugged outsole for traction, this shoe will keep you comfortable and safe while you explore the great outdoors.
With toe protect technology to help prevent wear on your shoes and an ultra-soft Fresh Foam X midsole, the Fresh Foam X Hierro v7 GTX is perfect for your next hike or run.
So why wait? Grab a pair today and start exploring the world around you!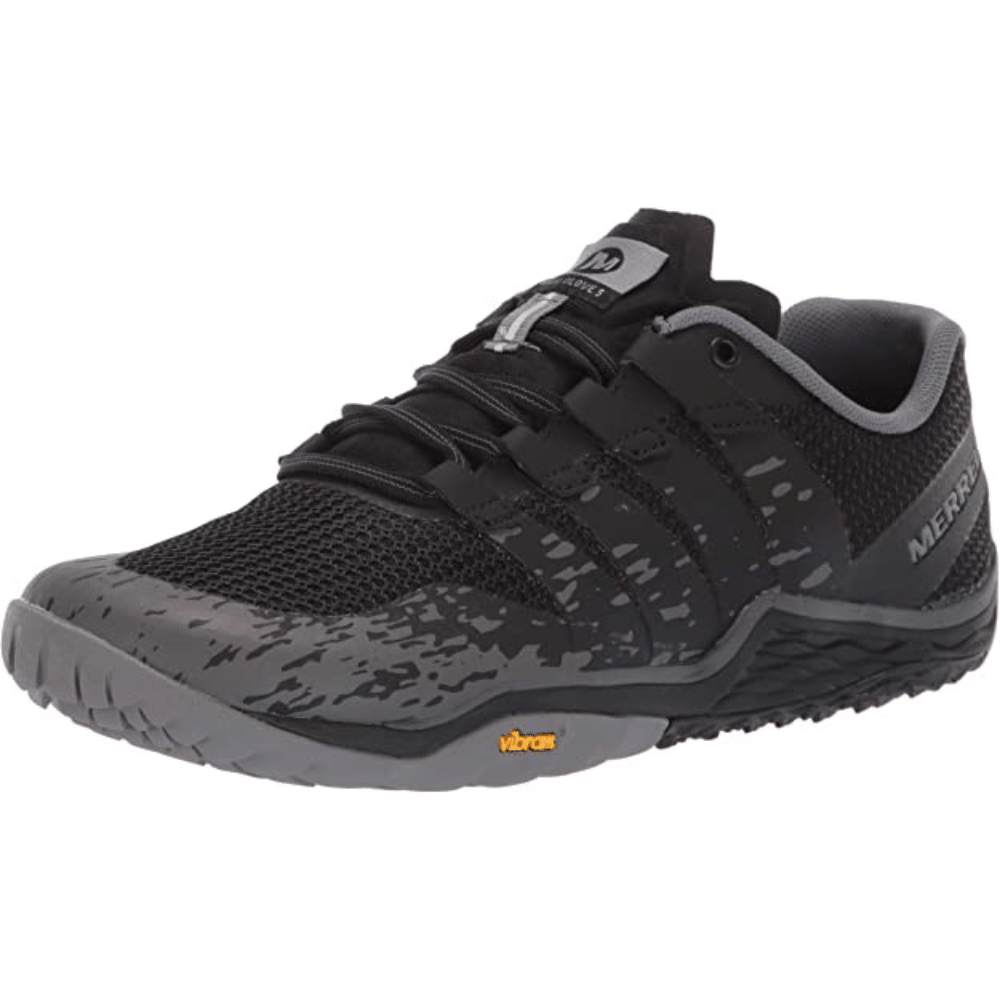 Best Minimalist
Check Price On Amazon
Why It's a Top Pick:

The Trail Glove 6 is a famous Merrell minimalist shoe line that gives runners a barefoot-like experience.
The minimal cushioning allows you to feel the trail while encouraging the foot to move naturally.
Bear in mind though that it is best suited for light trails. Aside from making the Trail Glove collection a better performance-wise shoe, Merrell also follows a better path to sustainability by using recycled and environmentally-friendly materials for the Trail Glove 6.
Merrell's Trail Glove line of shoes give you a barefoot-like experience on light trails. The minimal cushioning encourages your foot to move naturally, while the sustainable materials make sure you're doing your part for the environment.
This trail shoe takes these features a step further with even better performance and comfort. Its breathable mesh upper provides excellent ventilation, while its Hyperlock heel technology locks your foot in place so that you don't have to worry about injuries or slippage.  
Things to Know:

The Trail Glove 6 from Merrell is designed as a minimalist/barefoot-like shoe for runners who value a lightweight and responsive experience when running and walking.
The shoe offers no cushioning, making it best suited for use on:
daily runs and walks
moderate to quick-paced runs
trail surfaces
The new performance midsole is made of 10% algae biomass and continues to offer lightweight cushioning that also feels soft and responsive.
Additionally, the lacing system has been modified for improved fit and foot lockdown.
Weighing close to the average 7 oz for the category, the Trail Glove 6 is suitable for runners who used it on light trails and paved surfaces without experiencing any issues.
Its Vibram outsole also works well on wet surfaces.
Women's Trail Running Shoes FAQs:
Buying the right trail shoes can be confusing and frustrating. You have a lot of questions, and you're not sure who to trust.
We've got you covered. We've created a list of the most Frequently Asked Questions about women's running shoes and the best trail runners, so that you can make your next purchase with total and complete confidence!
What Should I Look For In A Good Pair Of Womens Trail Running Shoes?
When looking for a good pair of womens trail shoes, you'll want to consider the fit, the traction, and the durability.
The shoes should fit well and be snug around your foot, with enough room in the toe box to allow your toes to move freely.
They should also have good traction so that you can keep your footing on uneven or soft terrain, and be durable enough to stand up to regular use.
Is It OK To Use Trail Running Shoes On Road?
There are a few schools of thought when it comes to the use of trail shoes on the road.
Some runners feel that using a trail shoe on the road provides more cushioning and a smoother ride, while others believe that using shoes specifically designed for road running is better for your stride and can help you run faster.
In general, it is OK to use trail shoes on the road, but you may find that they are not as effective as shoes specifically designed for road running.
Most trail runners have different shoes for the road.
What Is The Difference Between Trail And Running Shoes?
There is a lot of difference between trail and running shoes. The key differences are:
Running shoes are designed to be lightweight and cushioned, while trail shoes have more tread and are generally heavier duty
Running shoes often have a more streamlined upper to reduce drag and weight in the water, while trail shoes often have a water resistant upper and toe bumper
Running shoes generally feature a more rigid heel than trail shoes, which allows for better propulsion when pushing off from the ground
Trail shoes usually have laces that extend all the way to the toes, while running shoes typically have loops or Speed laces that only go halfway up the foot. This is to prevent runners' feet from slipping out of their running shoes when wet
There are other subtle differences as well, but these are some of the key distinctions. It is important to select the right type of shoe for your activity in order to optimize your performance and avoid injury.
Are Trail Running Shoes Good For Everyday Running?
There are a few reasons trail shoes might be good for everyday running. First, they tend to have a more cushioned midsole than traditional running shoes, which can make them more comfortable for longer runs.
Additionally, trail running shoes often have a tread pattern that is better suited for grip on uneven surfaces, which can be helpful if you run on rough trails or other unpaved surfaces frequently.
However, some people find that trail shoes are too bulky or heavy to use for everyday runs on pavement. If you're looking for a versatile shoe that can be used for both paved and unpaved surfaces, it might be worth considering a model that is designed specifically for road running.
Whether it is worth investing in Gore Tex trail running shoes depends on if you need waterproof shoes, and several other factors. For runners who require a reliable pair of shoes to handle the tough, technical terrain, then it would be beneficial to acquire a pair with Gore Tex materials.
The reason for this is that these shoes are designed especially for this type of terrain, and feature technologies that are optimal for this type of activity. The first thing to evaluate is the terrain that you will be running on, and if it is constant or varied.
There is some debate over whether hiking shoes and trail shoes are the same or not. Some people say that hiking shoes are more durable and have a thicker sole, while trail running shoes are lighter and have more grip.
However, others argue that there is little difference between the two types of shoe, and that it comes down to personal preference. Ultimately, it's up to the individual to decide what type of shoe they prefer for their hiking or running needs.
Final Thoughts About Women's Trail Running Shoes

If you're a woman who loves spending time outdoors, then chances are you'll love trail shoes. They provide stability and cushioning for your feet so that you can enjoy a smooth, comfortable run through the woods or up mountains.
And because they're designed specifically for women, they come in a variety of feminine colors and styles to suit your taste.
So if you're looking for a new pair of running shoes that will make your workouts more enjoyable, be sure to check out the latest selection above of the best women's trail running shoes!
---