A lot of people are looking for ways to get in shape that don't involve leaving home. And that's why compact home gyms are becoming so popular. They let you work out in the comfort of your own living room—or wherever you have space!
How do you know which one is right for you?
That's where we come in. In this article, we'll introduce you to some of the best compact gyms on the market and help you decide which one is perfect for your needs.
So what are you waiting for? Read on to find out more about the best home gym!
Our team of savvy editors has carefully handpicked the list below, and some products may have been sent to us as samples. But don't worry—every opinion in this article is our own! If you happen to purchase any item from this article, ArticleFortress will earn a share of sales or other compensation (which helps keep us up and running!) Reviews have been edited for brevity and clarity, so you can quickly find your new favorite thing! Enjoy exploring what we've got for ya!
How Article Fortress Chooses the Best Compact Home Gym
It can be hard to know which compact home gym is the best for you, especially if you're new to working out or don't have a lot of time to spend researching.
It's easy to feel overwhelmed and not sure where to start. You might even end up buying a home gym that doesn't work well for your needs or isn't as compact as you wanted.
That's why we've done the research for you! In this article, we'll introduce you to some of the best compact home gyms on the market and help you figure out which one is right for you.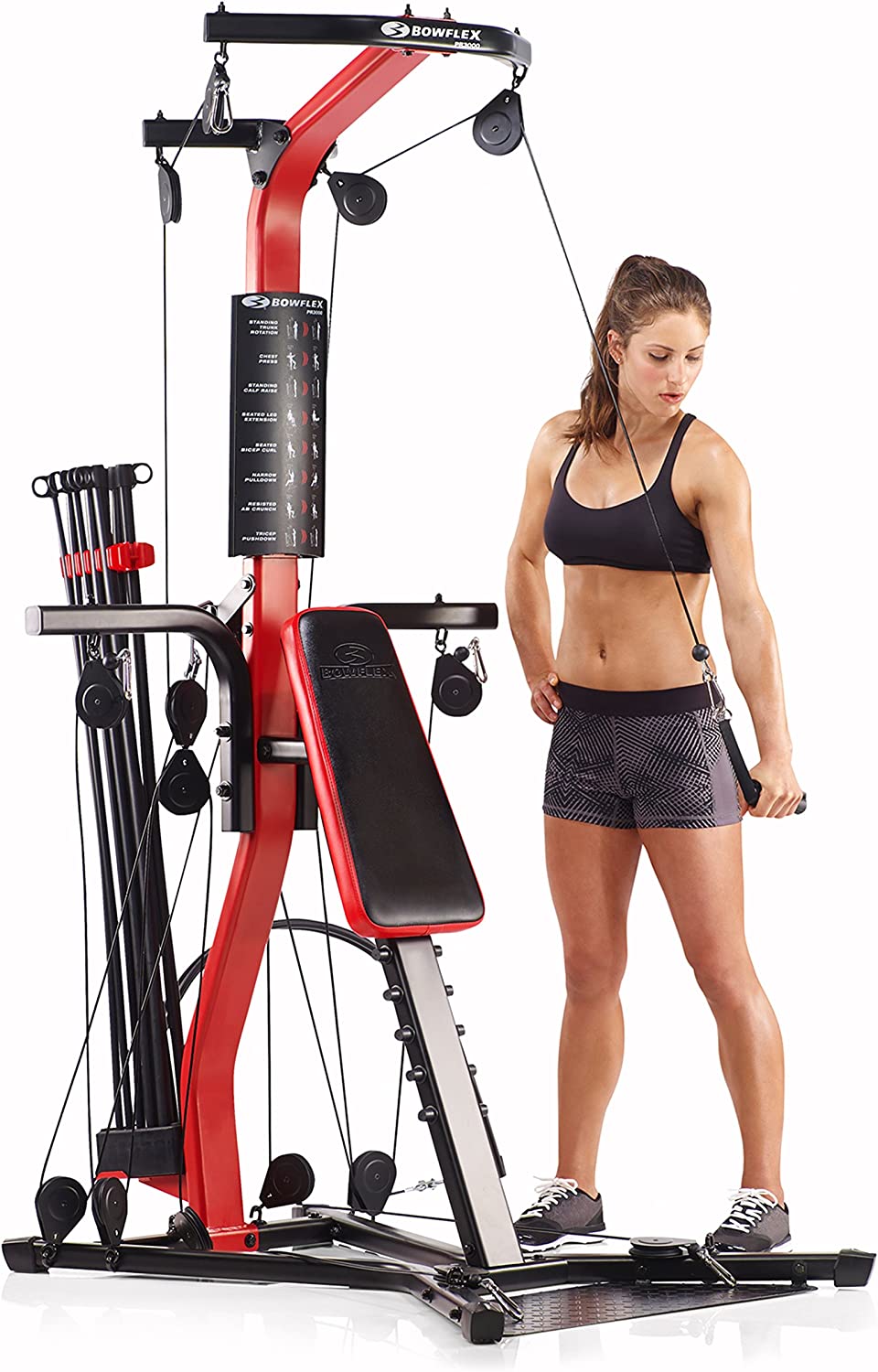 Best Overall
Check Price On Amazon
Why It's a Top Pick:

With the Bowflex PR3000 home gym, you can kiss expensive gym memberships goodbye!
This total-body machine offers over 50 strength exercises with no cable changes required between sets.
Plus, its space-saving design means you can get a killer workout in a small space. The amount of exercises you can do are worth the extra money you spend.  It really is like having an entire gym.
Things to Know:
The Bowflex PR3000 Home Gym offers adjustable resistance up to 210 pounds (95.25 kg).  You can upgrade to 310 pounds (140.61 kg).
This gym is designed for a versatile workout experience, with hand grip or ankle cuffs that add performance and flexibility to your routine.  It utilizes the quick change power rod resistance system.
The integrated instructional placard offers guidance on how to get the most out of your workout routine, while the heavy-duty steel construction frame provides durability you can count on.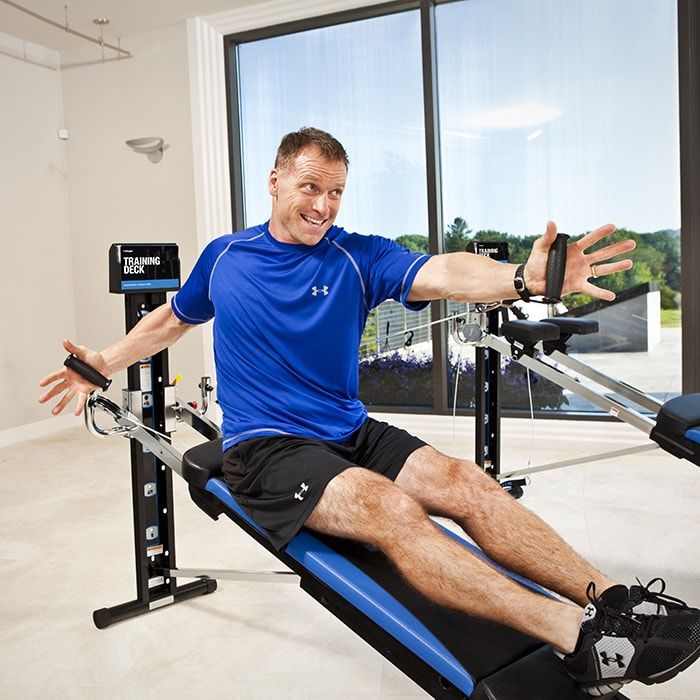 Best For Bodyweight Resistance
Check Price On Amazon
Why It's a Top Pick:
The Total Gym XLS is the perfect machine for a total body workout, using only your body weight for resistance. With over 80 exercises to choose from, you can customize your routine to target all the major muscle groups.
The included ab crunch and wing attachment make it easy to work on those troublesome areas, and the exercise chart and training deck make it easy for beginners to get started.
Plus, the nutritional/meal planning guide helps keep you on track with your health and fitness goals.
Things to Know:

The Total Gym XLS is a great piece of equipment for those looking to improve their fitness level. It is easy to set up and use, and comes with a variety of accessories to help you get the most out of your workout.
The Total Gym TV online video platform also provides you with additional guidance and training if needed.  It includes 7 classic Total Gym DVDs also.
Accessories include: Ribbed Squat Stand, Wing Attachment, Leg Pull Accessory, 2 Ankle Cuffs, and the Total Gym Exercise Wall Chart.  It has 35 exercises to get you started right away.
There is no assembly required, and it folds neatly for compact storage.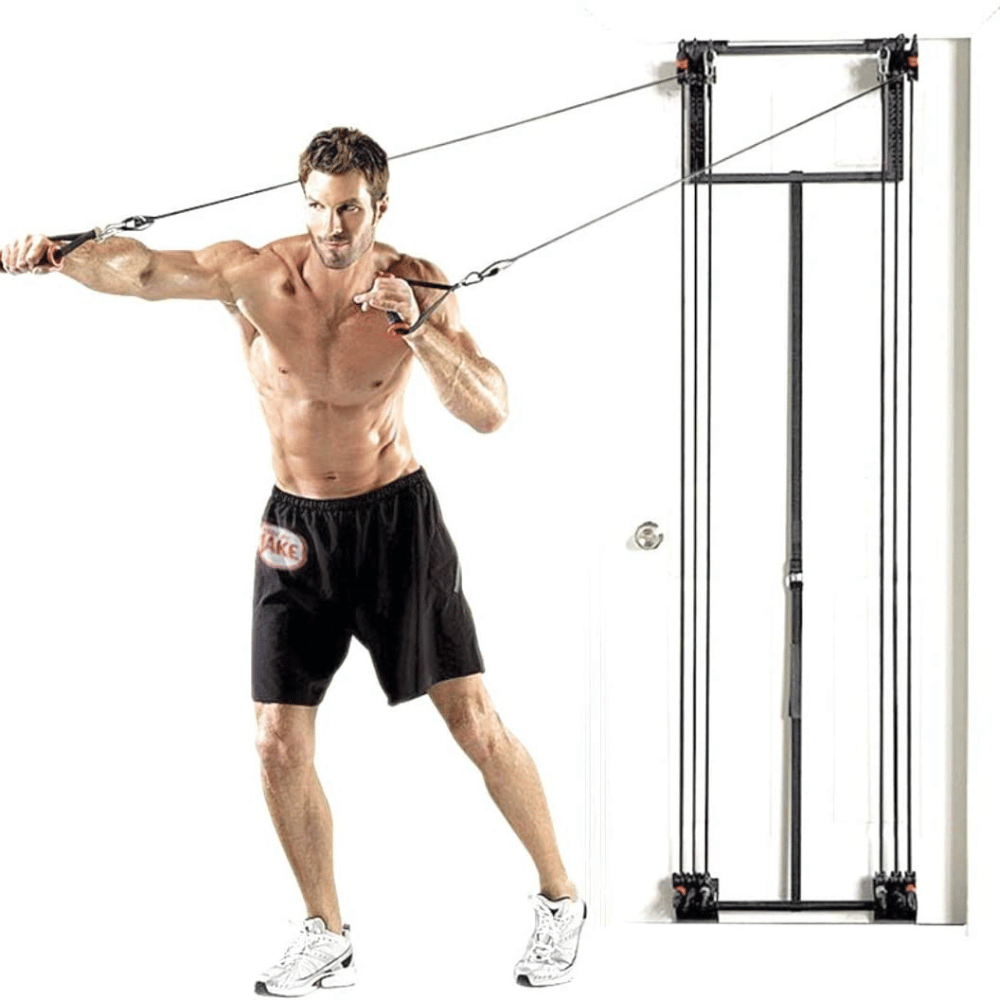 Best w/Cables
Check Price On Amazon
Why It's a Top Pick:
Don't let the small size of this gym fool you—it packs a serious punch!
Whether you're looking to tone up your upper body or work out your lower body, this gym has got you covered.
Plus, it's incredibly easy to set up—simply slide it onto any door in seconds, and you're ready to go!
Things to Know:
The Tower 200 is a piece of equipment designed to provide users with an explosive resistance workout.
With two multi-tension power cords, the Tower 200 can support more than 200 exercises in all, helping users to work their arms, chest, shoulders, back, abs and legs.
The durable steel frame is long-lasting and able to withstand vigorous use over time, while the variety of exercises available ensure that users can target every muscle group.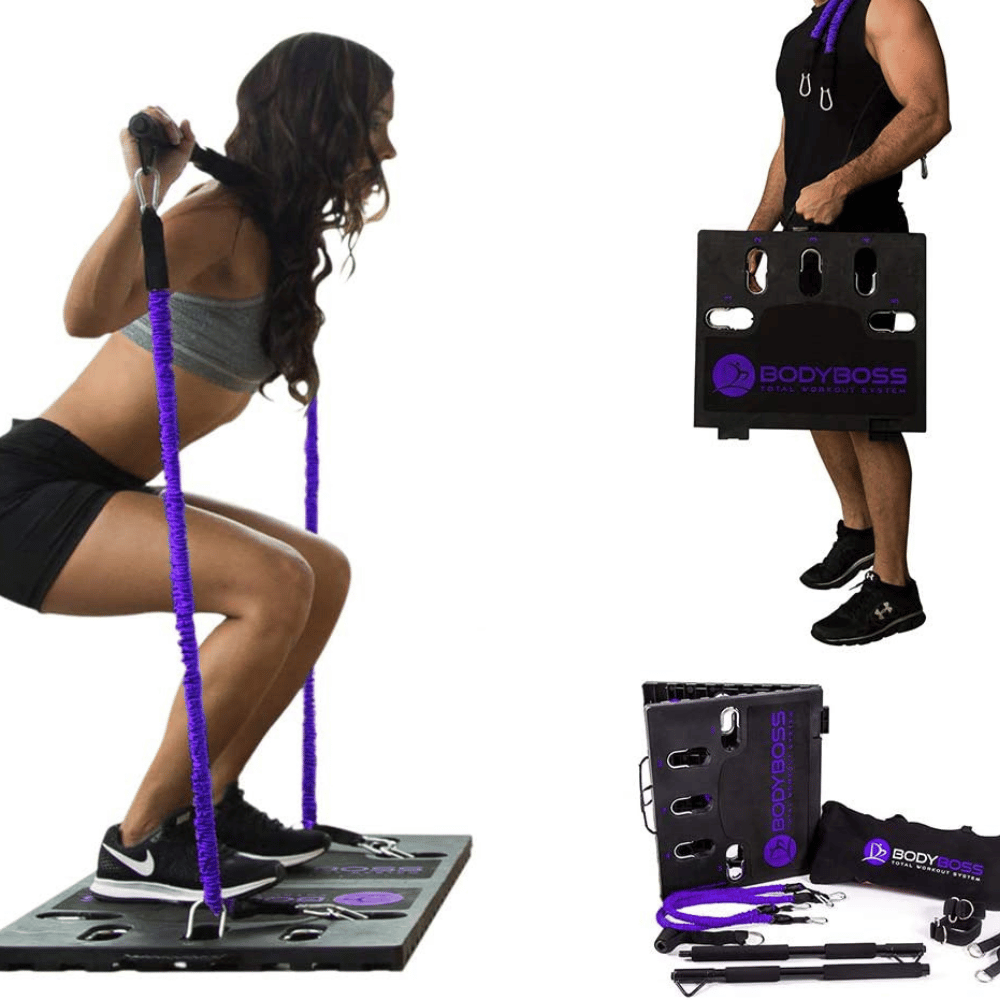 Best For Lower Body
Check Price On Amazon
Why It's a Top Pick:
The BodyBoss 2.0 is like having a thousand dollars worth of gym equipment in one small, portable, compact gym. You can use it to work out your upper body, lower body or even do cardio resistance boxing workouts.
Plus, it's easy to take with you wherever you go—perfect for busy people who don't have time for the gym. Try the BodyBoss 2.0 today and get in shape with ease!
Things to Know:

The BodyBoss 2.0 is a portable compact gym that offers a variety of exercises to work out all areas of the body, while utilizing a small space.
The collapsible workout bar can be used as a squat bar.  Awesome!  Squats rule!
The first-to-market VectorFit Base Platform has been stress tested from each anchor point to withstand up to 500 lbs of force and has been engineered through 6 prototypes to provide you with this durable material.  The base is foldable and has anchors that retract, making it easy to transport and store.
Additionally, the Bands are custom-length and simulate between 0-30 lbs of resistance, depending on the package purchased.
The door anchor locks securely into the door frame, so you can simulate lat pull downs, chest flies, and tricep extensions in the comfort of your own home.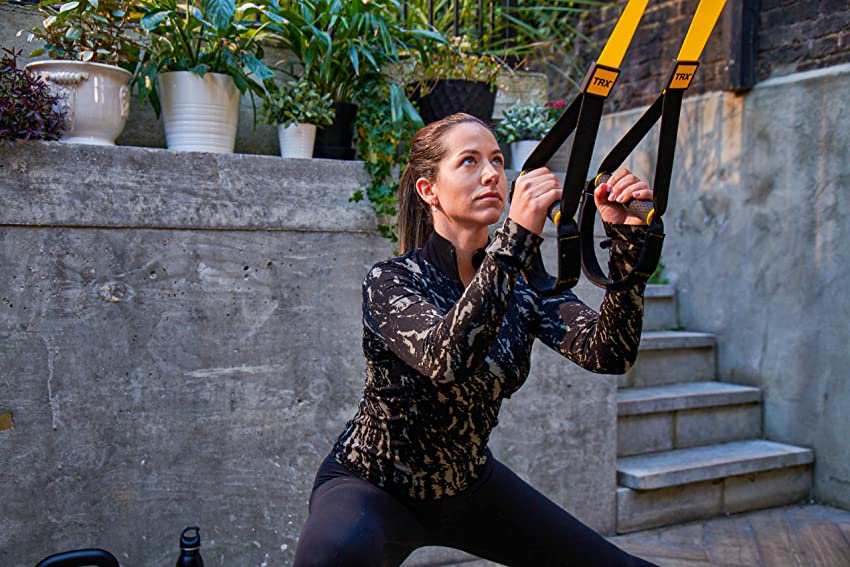 Best Portable System
Check Price On Amazon
Why It's a Top Pick:

If you're looking for a way to get a full-body workout without having to leave the house, look no further than the TRX Home2 System suspension trainer.
This easy-to-use suspension trainer provides all the benefits of a traditional gym membership – minus the hefty price tag and pesky crowds.
Plus, it can be adapted to fit any fitness level, so you can work at your own pace. All you need is about 20 minutes three times a week to see results. Ready to get started?
Things to Know:

TRX Home2 System is a great piece of workout equipment that is perfect for those who are looking for a full-body workout.  It's the best portable compact gym.
It sets up in seconds and can be attached to any anchor point, such as a door. The locking loop design ensures that the straps remain even during your workout, while the adjustable straps and foot cradles provide a custom fit for all users.
Your purchase of a new TRX Home2 System will include a 30-Day Free Trial to TRX Training Club. This will give you a boost on your training, and teach you the proper form for the system.
Additionally, the comfortable foam handles make this suspension trainer easy to use no matter your fitness level.  Suspension trainers need comfortable handles.
And when you're finished working out, the TRX Home2 System packs light and goes anywhere—perfect for taking with you on vacation or on business trips.
Compact Home Gym FAQs:
We know that searching for a compact home gym options can be confusing
You want to get fit, but don't have the time or money to join a gym. Gyms can be expensive and time-consuming. Who has the time to go to the gym every day?
Compact home gyms are the solution! These small, affordable machines let you work out in the comfort of your own home without wasting any time. Plus, they're easy to store away when you're not using them.
Check out our FAQs for more information on which compact home gym is right for you!
How Much Would It Cost To Build A Small Gym At Home?
It would cost approximately $1,000 to build a small gym at home. This price includes the cost of necessary equipment, such as a treadmill, weight bench, and your own weight plates.
It's also important to factor in the cost of flooring, which should be either rubber or foam to reduce the risk of injury.
Finally, it's a good idea to consult with a personal trainer or physical therapist to get an idea of which exercises are best for you and how to safely perform them in your home gym.
What Is The Best Home Gym Equipment?
There is no definitive answer to this question as everyone's needs and preferences will vary. However, some of the best home equipment options include options that allow weight resistance, cardio training, and full body options.
Weight and/or resistance are the most needed pieces of equipment for your training. (Dumbbells, Bands, Kettle Bells, etc..)
Most compact home gyms in this article can provide all you require for a home gym. See the best portable compact gyms above.
Are Home Gyms Worth The Investment?
It is always worth the investment to gather equipment to make your life healthier, and there are many factors to consider when making this decision.
Some people may find that having a home gym allows them more flexibility and privacy when working out, while others may prefer the social environment of a traditional gym.
Cost can also be a consideration, as home gyms can be expensive, but you should average the cost of your local gym for the year. Home gyms can be a great investment.
How much space you have in your home is also important. It's nice to have a solid floor instead of carpet, and a place with good ventilation. A good workout space will enhance your home gym investment.
Ultimately, the best answer for whether a home gym is worth the investment depends on individual needs and preferences.
Which Gym Equipment Is Best For Belly Fat?
There are quite a few possible answers to this question. Different gym equipment will work better for different people, depending on their body type and the level of fat they are trying to lose.
One important piece to any weight loss workout is strength training equipment to build muscle and cardio training equipment to build endurance. Both will help you lose weight the fastest, and will get that belly fat.
High Intensity Interval Training (HiiT), is working at a very intense level and then backing off for a slower recovery period, followed by another round of high intensity. (Discuss with your doctor before starting any exercise routine!)
The most significant piece of knowledge to have in your fitness goals and weight loss journey is: You can't out-train a bad diet!
Work on your eating habits. It's the hardest part of fitness, but will give you the best results!
How Long Do Home Gyms Last?
Home compact gyms are a great way to get fit and save money, but how long do they last?
The average home gym will last around 7-10 years with proper care. However, if you're using your home gym more than 3 times a week, you may need to replace it sooner. Regular wear and tear can cause machines to break down, so be sure to read the manufacturer's instructions carefully and keep all parts and pieces in good condition.
If you're looking for a long-term solution, consider investing in a quality home gym that will last for many years. Many have a small footprint and are high quality. These gyms often come with a warranty, so you can be sure your investment is protected. Look for brands that are well-known and have a good reputation in the fitness industry.
Final Thoughts About The Best Compact Home Gyms

Thanks for sticking with us! We know that finding compact gyms can be tough, but we're confident that we've helped you narrow down your options.
How much space you have for a home gym is the first thing to look at when reviewing compact gyms.
Remember, we have reviewed hundreds of articles and reviews, and put together what we feel are the best options.
Go ahead and pick from the one that will best fit your needs.  You will be happy to start your fitness journey!
---