Are you looking for the best home gym equipment?  Frustrated with your gym membership?  Not sure if you have enough gym space at home?
We have the perfect solution for you! In this article, we will discuss the best gym setups for your home gym, what equipment you need to get started, and what to buy first to save money.
Whether you are just starting out or are a seasoned pro, we have the perfect setup for you. You will be able to get in shape and reach your fitness goals in no time at all with our help.
Read on to find out more about home gym setups and how they can benefit you!
Our team of savvy editors has carefully handpicked the list below, and some products may have been sent to us as samples. But don't worry—every opinion in this article is our own! If you happen to purchase any item from this article, ArticleFortress will earn a share of sales or other compensation (which helps keep us up and running!) Reviews have been edited for brevity and clarity, so you can quickly find your new favorite thing! Enjoy exploring what we've got for ya!
How Article Fortress Chooses the Best Home Gym

Our expert reviewers have spent the time, money, and energy building their own home gyms, and have reviewed articles and reviews on the best home gyms. This article will help you get started on your path to building yours!
There are so many pieces of equipment on the market, it can be overwhelming trying to figure out what will work best for you.  Cardio workout equipment is not the best to start with and is expensive.
By reading this article, you'll have a better understanding of what type of home gym setup will work best for you and how to avoid wasting your time and money on unnecessary equipment.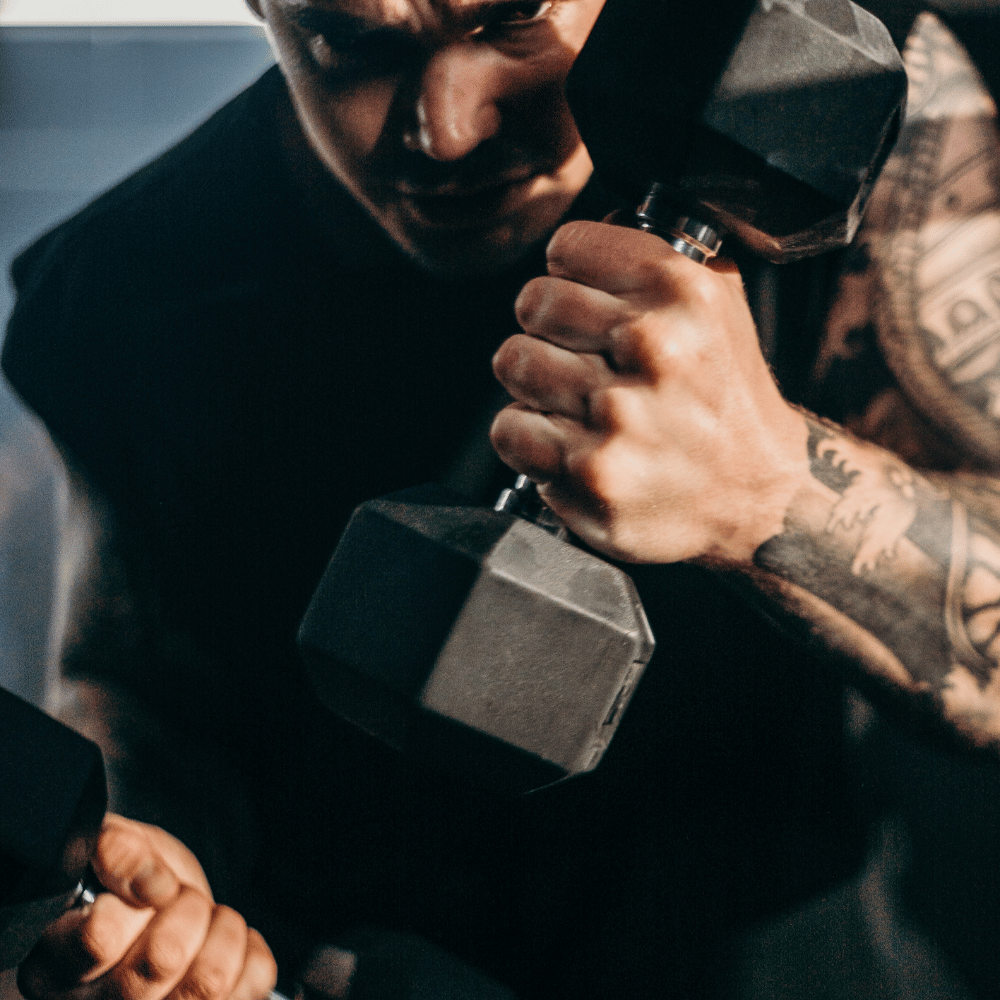 Best for Beginning Weight
BalanceFrom Rubber Encased Hex Dumbbell in Pairs
Check Price On Amazon
Why It's a Top Pick:

Dumbbells are the best equipment to start with on your home gym journey. With a simple set of dumbbells, you can perform a complete body workout.
You don't need more equipment, or even need a bench or rack at this point. Dumbbells are the best space-saving equipment you can own!
These high quality solid cast dumbbells, encased in rubber, will last throughout the years while protecting your floor.
The metal chrome finish and contoured (ergo) handles are designed to fit comfortably, provide a tight and secure grip, and the textured handle will help prevent rolling.
The hexagon shape rubber encased heads not only look cool, but they also help make storage easier.
Things to Know:

Dumbbells are a popular choice for resistance training because they allow the exerciser to mimic natural movements more accurately than barbells.
Additionally, dumbbells offer a greater range of motion on certain exercises, providing a more comprehensive workout.
You will find they are such a valuable tool to have in your home gym.  They will be your go-to piece of equipment.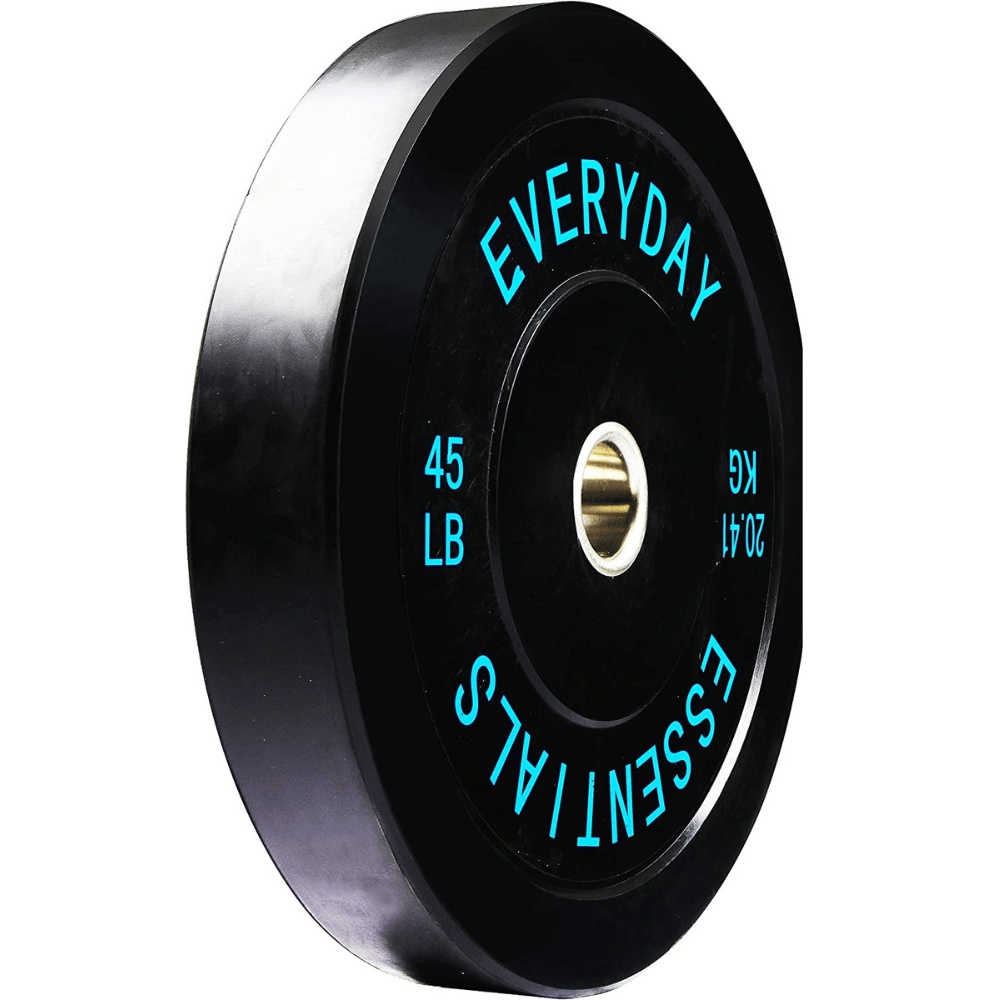 Best for Barbell and Sled Work
BalanceFrom Color Coded Olympic Bumper Plate
Check Price On Amazon
Why It's a Top Pick:

When you are ready to add more equipment, we highly recommend getting bumper plates, and a barbell, (see barbell in this article) for your home gym.
Bumper plates allow you to drop your barbell when doing Olympic/crossfit style lifts. These types of lifts are some of the best, full body, movements. They will increase your strength, flexibility, and overall physical health.
BalanceFrom plates are made of high density rubber, with solid stainless steel inserts, these bad boys can withstand repeated drops without bouncing. So go ahead and drop that barbell like a boss!
Things to Know:
Weightlifting enthusiasts will appreciate the quality and craftsmanship of these Olympic bumper plates.
Each plate is made of dense rubber, ensuring that they can safely be dropped without damaging your lifting platform or other equipment.
The color coding makes it easy to identify the weight of each plate, and the labeling in both pounds and kilograms makes it easy to track your progress.
You will need a hard surface that won't be damaged from dropping the barbell. Your garage or basement is the most likely place to use a good barbell.
Whether you're a beginner or a seasoned pro, these bumper plates are sure to help you reach your fitness goals.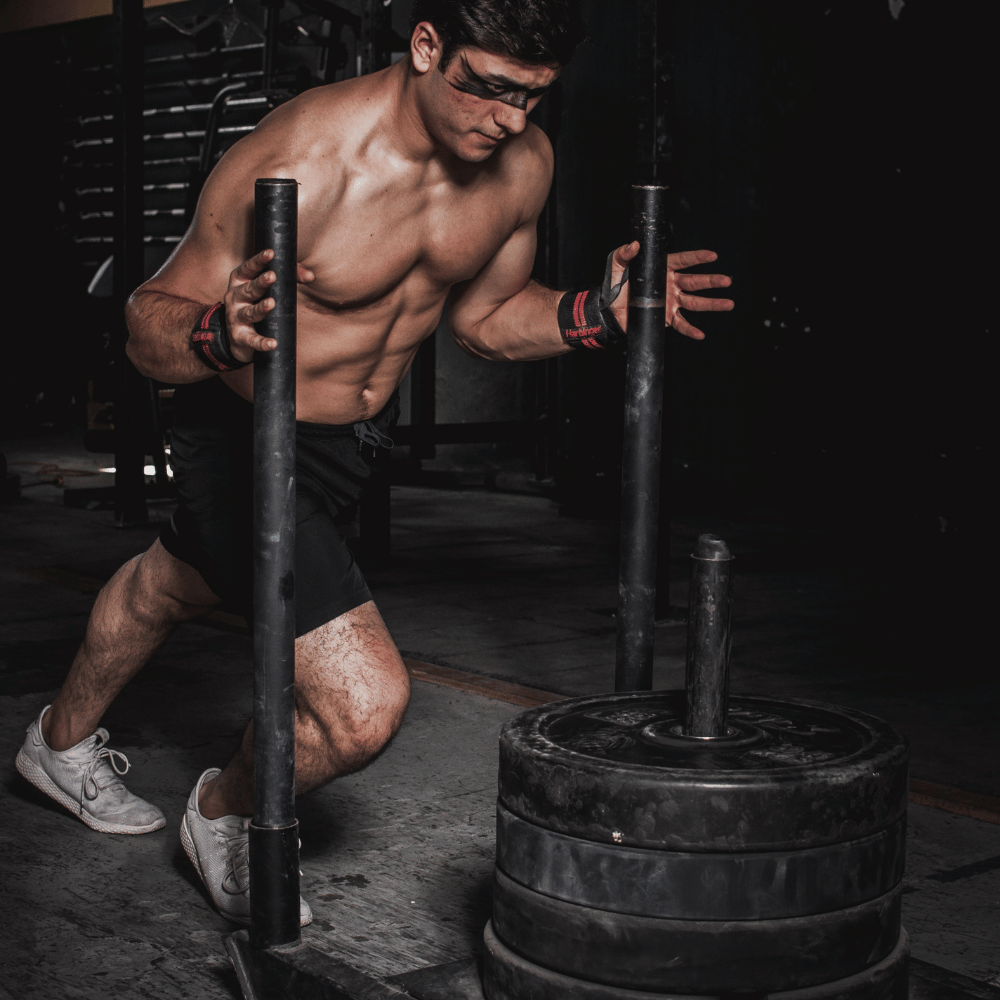 Best for Push/Pull Exercises
Check Price On Amazon
Why It's a Top Pick:
Weight sleds are one of the most underrated pieces of workout equipment. Sleds allow you to perform more "natural" body movements of pushing and pulling.
Weight sleds use weight plates to add the additional weight for your exercise.  These type of plates were discussed above in this article.  You can use bumper or steel plates for the sled.
The VEVOR Fitness Sled is a great choice for a starter sled, and for an advanced athlete.  
Things to Know:
The VEVOR Fitness Sled is a premium piece of equipment made with advanced static electricity spray and sturdy construction.
It can accommodate up to 500 pounds (226.8 kg), making it perfect for athletes of all levels. The weight plate holder also allows for standard and 2 in Olympic plates, making it versatile and customizable for any workout routine.
The sled can be used on grass, carpet, concrete, or all types of sports turf, making it a valuable addition to any home gym.
Additionally, the shoulder harness prevents damage to the skin during use and the strap is adjustable for a customized fit.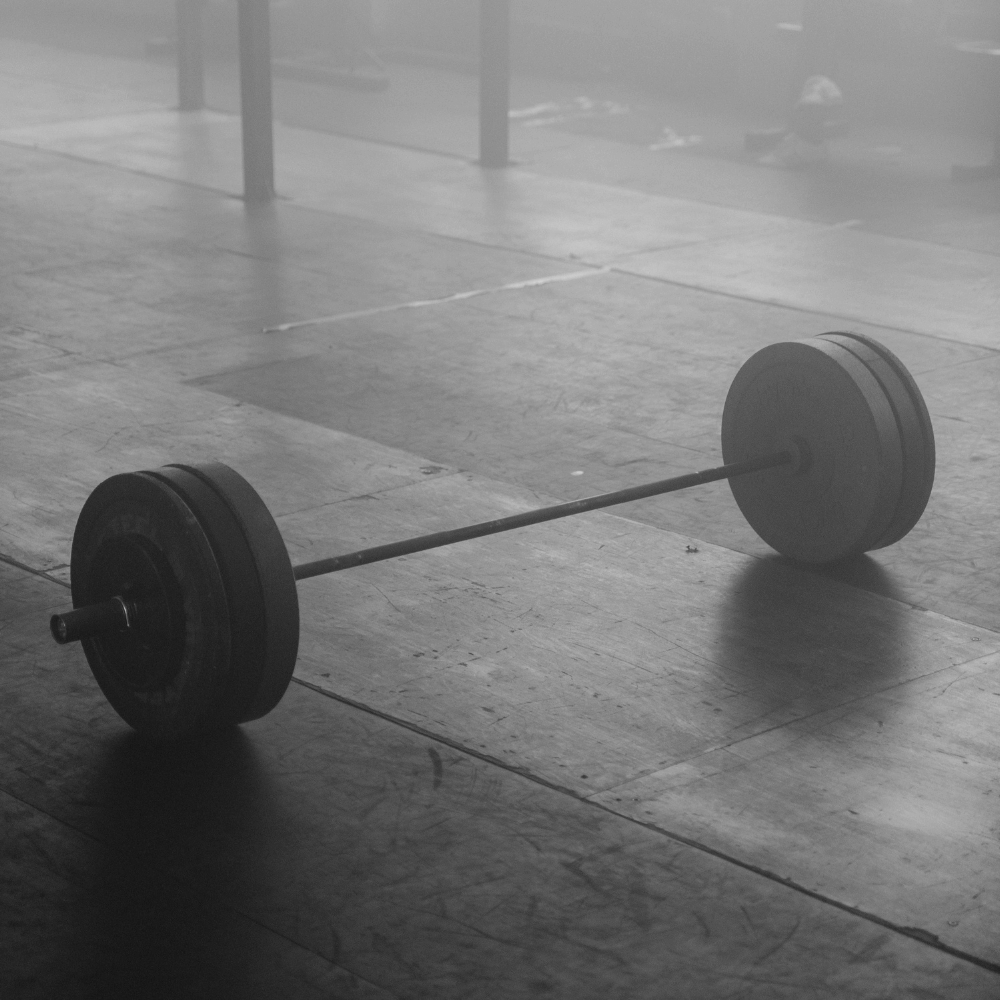 Best Barbell
PapaBabe Olympic Bar 7-Foot
Check Price On Amazon
Why It's a Top Pick:

Olympic barbells are a home gym tool I wish I knew were so valuable much sooner.  I didn't know they were different from the standard bench barbell (non-olympic).
Crossfit has brought this tool to more people than just Olympians. The exercises are challenging to learn, and should be taught by a coach. Once you learn the proper form, you will experience a full body workout, and strength to your total body.
PAPABABE's Olympic Bar is perfect for anyone who want to get the most out of their workout. With its superior design, this barbell allows you to do a wide variety of challenging exercises that will help you gain muscle mass, lose weight, and improve your fitness level.
Plus, it makes you more flexible and helps reduce pain in your body—all without breaking the bank!
Things to Know:

The Olympic barbell is a piece of equipment that can be found in most gyms, and should be part of your home gym. It is made from solid cold rolled steel with a hard chrome finish, ensuring strength and durability.
The barbell is one of the most complex pieces of equipment to learn how to use properly. When a beginning trainer uses a barbell for the first time, their body's response is mainly mental.
Learning how to move a barbell teaches our minds how to use all of our muscles together efficiently. Olympic barbell moves require balance and coordination, unlike machines, resulting in better performance during fitness competitions.
The Papababe barbell has diamond knurling for a secure grip, as well as rotating sleeves to reduce pressure on wrists and forearms.  It is a great starter barbell that will work for any home gym.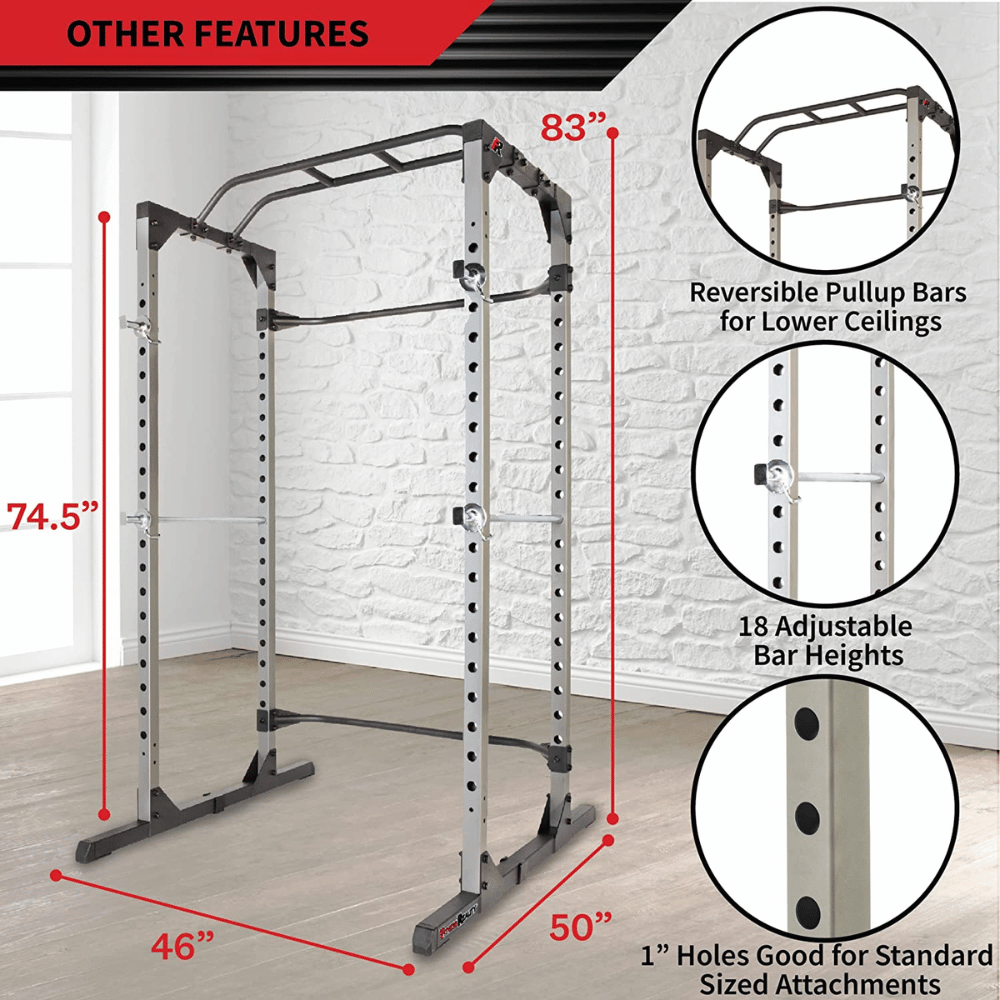 Best Rack For A Budget
Fitness Reality Squat Rack Power Cage
Check Price On Amazon
Why It's a Top Pick:

If you want to really max out your workout, you need a squat rack.  It's essential if you are using a barbell.
Squat racks are great pieces of equipment, and this Fitness Reality Rack can handle just about any weight you can throw at it.  It has some added safety features that make sure you stay safe while you push yourself to the limit.
Pull-ups, shoulder presses, and squats will all become easier with this rack in your home gym. So what are you waiting for? Invest in your fitness today!
Things to Know:

The Fitness Reality Rack Power Cage is a great beginner rack due to its price and features.
The back of the rack includes a lat pull down attachment, which increases the price quite a bit, but isn't needed unless you do a lot of bodybuilding-type movements.
The multi-grip pull-up bar and spotter pins allow for a lot of versatility in addition to the normal functions of a power cage. With an 800 lbs weight capacity, this cage is made from durable heavy duty 2 inch by 2 inch tubular steel frame construction, giving it incredible strength.
The large walk in space provides easy side to side movement and comes with two 23" long chrome dual mounted safety bars and two 3 ¼" long chrome lock on safety bars that are compatible with 7' Olympic bars.
The Best Home Gym FAQs:
We know that searching for the best home gym equipment can be challenging. You likely still have a lot of important questions about a home gym, maybe even more questions.
Don't worry, we're here to help! We've put together a list of Frequently Asked Questions about a home gym so that you can make an informed decision when it comes time to purchase your own equipment.
With this information, you'll be able to find the perfect home gym for your needs and budget.
What Are The Best Pieces Of Equipment For A Home Gym?
A home gym can be tailored to fit your needs, but some of the most common pieces of equipment are free weights, barbells, benches, racks, and cardio workout equipment.
How Much Space Do I Need For A Home Gym?
The space you need depends on your goals. If you are a beginner, you can workout in your living room with some dumbbells. You don't need any official workout space for them.
As you get more advanced, you want room for a barbell, weight bench or rack, and to have room for your equipment. Extra bedrooms, and garages are top choices.
What Are The Benefits Of Having A Home Gym?
There are many benefits if you build a home gym, including cost savings, convenience and privacy. You can also tailor your workouts specifically to your needs and preferences.
How Do I Choose The Right Equipment For My Home Gym?
When choosing fitness equipment for your home gym, consider your budget, workout space and workout goals.
It's also important to make sure that the equipment is durable and will last long enough to justify the investment. This article is an excellent review to start with the right equipment fitting your budget.
I'm Not Very Athletic - Is It Still Worth It To Have A Home Gym?
Even if you're not particularly athletic, there are still many reasons why having a home gym can be a great option. You can work at your own pace and practice exercise techniques without the pressure of others watching or judging you.
Plus, having a home gym means that you'll always have access to equipment when you need it, no matter what time of day it is or how busy the gym may be.
What are the best exercises to do at home without any equipment?
There are plenty of exercises that can be done at a home gym without any equipment. Some of the best exercises include:
-Jumping jacks
-Crunches
-Squats
-Pushups
-Lunges
These are just a few examples, but there are many other exercises that can be done at a home gym without any equipment. Just be sure to mix up your routine to keep your body challenged and avoid boredom.
What Are Some Good Tips For Creating A Routine When Working Out At Home?
When working out at home, it's important to create a routine and stick to it. Here are a few tips for creating a routine:
1. Schedule your workouts in advance. This will help you stay accountable and make sure that you actually do them.
2. Set realistic goals. It's important to set goals that are achievable so you don't get discouraged and give up.
3. Make a playlist of your favorite songs to keep you motivated.
4. Try to workout at the same time each day so your body gets used to the routine and becomes more efficient at burning calories etc.
5. Take breaks as needed, but try not to skip too many days in a row or it will be difficult to start again. Habits take 30 days to obtain.
How Can I Make Sure I'm Staying Motivated When Working Out At Home?
There are a few things you can do to make sure you're staying motivated when working out at home. Not everyone stays motivated, but figures out how to workout anyway.
First, make sure that you have enough workout space to move around in, and set aside some time each day specifically for your workout.
Second, find a workout routine that you enjoy and stick with it. And finally, reward yourself after completing each workout with something that makes you happy—maybe a hot bath, some chocolate, or even just some down time.
By incorporating these tips into your daily routine, you'll be well on your way to reaching your fitness goals!
Final Thoughts About the Best Home Gym Equipment
Tired of gym memberships? The best home gym is one that works for you and your current situation and environment.
It's important to find a space in your home where you can dedicate time to your fitness routine without feeling cramped or overwhelmed.   Garage gyms are very popular!
Consider the amount of equipment you need, as well as how much space you have available. If you're short on time, stick to simple gym equipment, like dumbbells, and not expensive cardio equipment.
The bottom line? A great home gym should make you feel happy and powerful—not like just another thing to add to your never-ending To-Do list!
---