Are you looking for the best cable machines to help with your workouts?
If you're like most people, you want to find the best products for the job – and that's certainly true when it comes to finding cable machines. But it can be tough to know where to start or what will work best for you.
That's why we're here! We want to help make your decision easier, so you can get on with your workout routine and see results sooner.
We'll introduce you to some of the best cable machines on the market today – all of which are designed specifically for helping you with your workouts.
Keep reading to learn more about these great machines and find the one that's perfect for you!
Our team of savvy editors has carefully handpicked the list below, and some products may have been sent to us as samples. But don't worry—every opinion in this article is our own! If you happen to purchase any item from this article, ArticleFortress will earn a share of sales or other compensation (which helps keep us up and running!) Reviews have been edited for brevity and clarity, so you can quickly find your new favorite thing! Enjoy exploring what we've got for ya!
How We Choose The Best For You
We know there are lots of options for cable machines, so that's where we come in! Our experts have spent hours reviewing hundreds of articles and reviews looking for the best products for your needs.
We've narrowed down the options to five of the best machines. You won't have to worry about being overwhelmed anymore.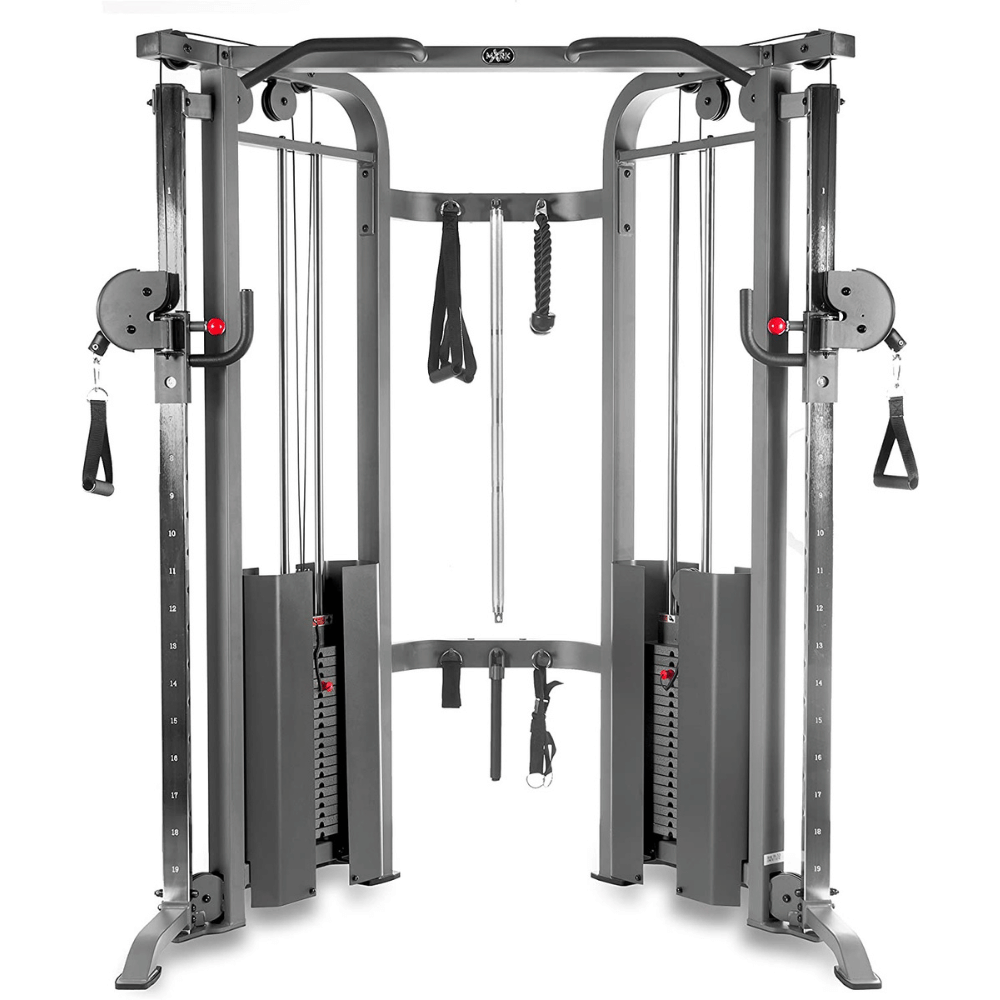 XMark XM-7626 Cable Machine
Check Price On Amazon
Why It's a Top Pick:

The XM-7626 is the perfect piece of equipment for any family's home gym. This functional trainer is extremely versatile and adjustable to fit anyone, regardless of their height or age.
Plus, its 2:1 stack to resistance ratio creates true isolateral-based movements, allowing users a variety of options for muscle targeting and isolation.  You can work the upper body and lower body.
If you're also looking to do pull-ups or chin-ups, this machine has got you covered with a multiple grip position pull up bar.
Things to Know

The XM-7626 is a solidly built functional trainer cable machine with its dual weight stack, 200lb weight capacity, quick adjust pulley system, and interchangeable accessories.
With its 11-gauge 2" x 3" steel mainframe construction, this machine is designed to withstand even the most strenuous workouts.
This is a complete machine that you will not need to replace.  It will provide a complete workout with all the cable movements you need. (Upper Body & Lower Body)
In addition to the standard accessories, the upgraded accessory package includes the XMark triple chrome plated chinning triangle, single grip handles, triceps rope, revolving curl bar, and triceps press down bar—all of which are chrome plated for extra durability.
The price is higher, but if you're looking for a cable machine and never want to have to replace it, this is it!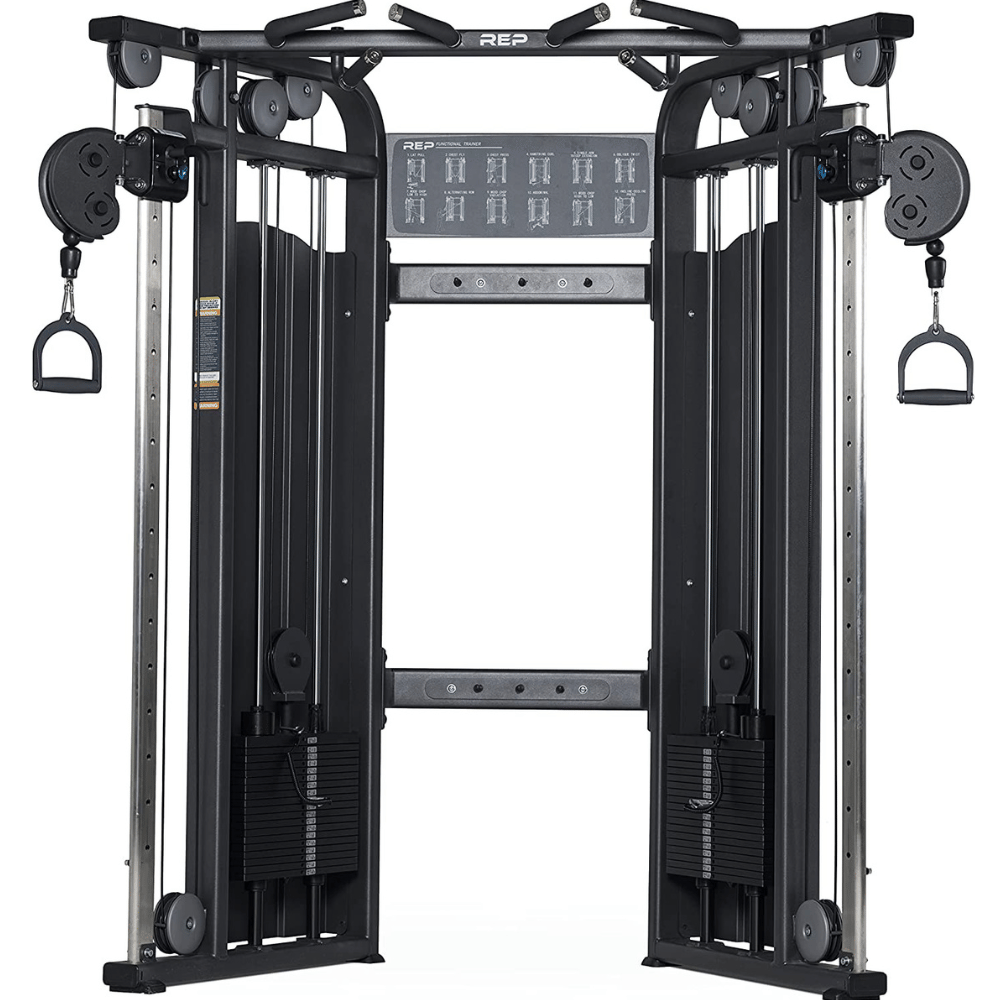 Rep Fitness FT-3000 Multi-Grip Cable Machine
Check Price On Amazon
Why It's a Top Pick:

Looking for a versatile piece of equipment to add to your gym? Look no further than the REP Fitness FT-3000 Multi-Grip Functional Trainer Cable Machine!   This is the editor's favorite cable machine.
With 16 selectable cable positions and 220lb dual weight stacks, this machine can handle just about any workout you throw at it.
Plus, the included exercise guide and additional pull up bar, with multiple pull-up grip options, make it easy to get started.
Don't have time to spare? No problem! The FT-3000 is designed for quick and easy assembly.
Things to Know

The REP FT-3000 Multi-Grip Cable Machine is a professional grade piece of gym equipment that features a two-layer electrostatic powder coating with a beautiful black metallic finish.
Additionally, the PREMIUM pulleys allow for feel through your cable resistance movements.
This machine comes with dual weight stacks, upgraded to a 220lb weight capacity, with 2:1 ratio (moving 100 lbs takes 50 lbs of effort), providing you with more possible resistance than other machines on the market.
This is a premium machine that not only looks good, but works even better!  It's a complete cable machine that will bring happiness to your workouts for years and years.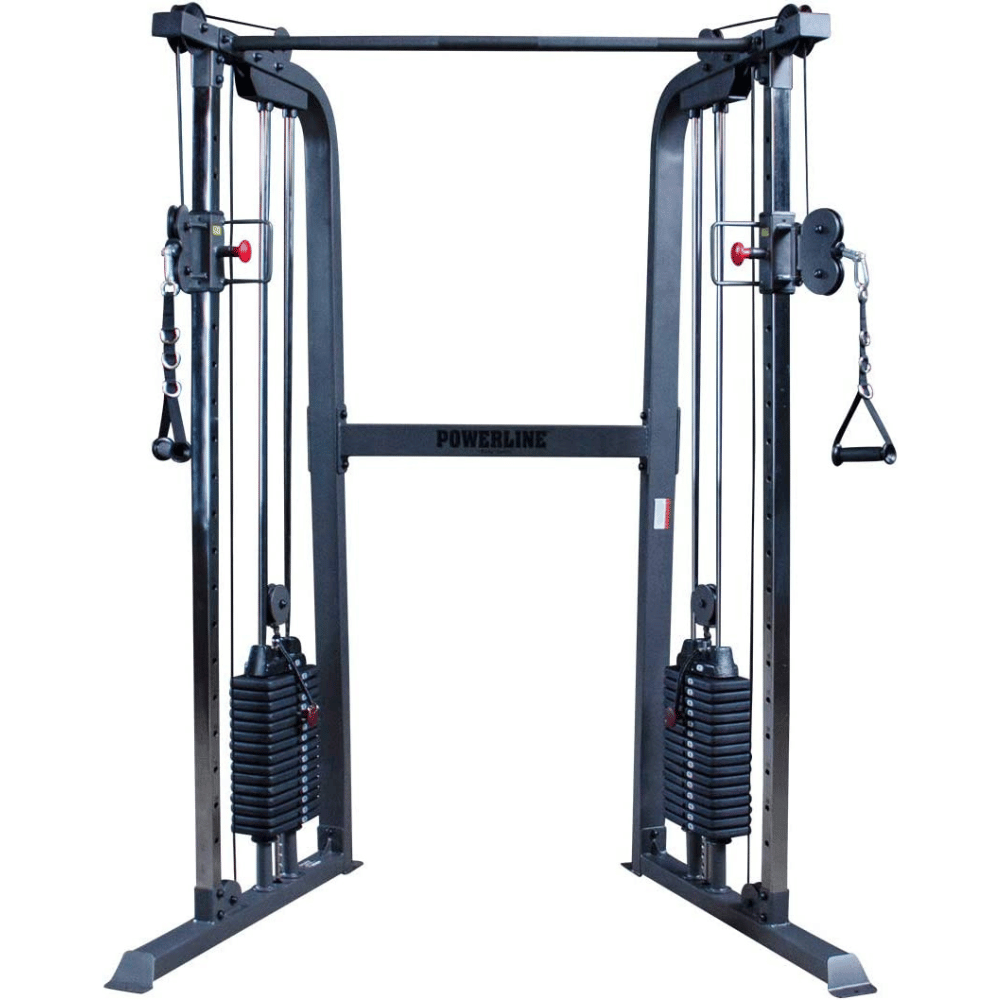 Best Mid-Range
Body-Solid Powerline PFT100 Cable Machine
Check Price On Amazon
Why It's a Top Pick:

The Body-Solid PFT100 Cable Machine is the perfect addition to any home gym.   It's a great piece of equipment, at an affordable price, that will give you great cable workouts that will complement your fitness routine.
It offers a wide range of exercises to help you sculpt your body into a masterpiece.
With its adjustable pulley system and infinite number of exercises, you can really customize your workout to achieve the exact results you are looking for.  It's an excellent cable machine!
Things to Know:

The Body-Solid Powerline PFT100  Cable Machine is a versatile piece of equipment that offers a number of exercises to users of all fitness levels.
With two adjustable nylon cable handles, the machine can be used for low and high cable crossovers, biceps curls, triceps pressdown, triceps extension, glute kickback, rows, delt raises, trunk twists and more.
The unit also includes two 160 lb weight stacks (upgradable to 210 lbs.), making it an ideal choice for those looking for a convenient workout option.
Dimensions: 42 in. x 63 in. x 83 in. (DxWxH), product weight: 476 lbs.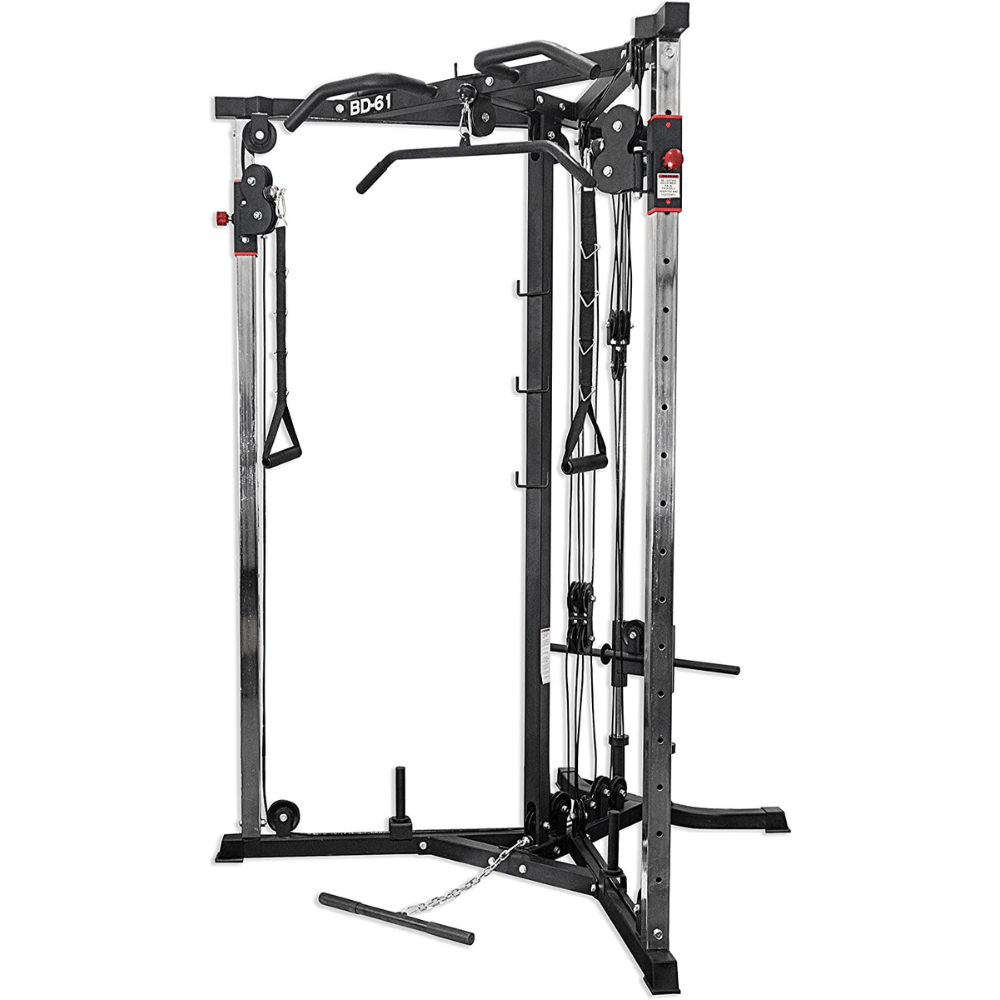 Best for Garage Gym
Valor Fitness BD-61 Cable Crossover Machine
Check Price On Amazon
Why It's a Top Pick:

Looking for the best cable crossover machine that will stand up to even the most intense workouts? Look no further than the Valor Fitness BD-61!
This heavy-duty machine is built to last, with rubber base end caps to protect your floor and stability bolts, so you can be sure it won't budge during your most strenuous sets.
Plus, it's easy to assemble—so you'll be ready to start working out in no time!
Things to Know:

The Valor Fitness BD-61 Cable Crossover Machine is a versatile piece of equipment that allows you to perform a variety of exercises from different angles.
With 16 position adjustable sleeves and a 63" range of adjustment, the pulley brace can be set to numerous positions for a wide variety of cable exercises.
The pulley brace pivots and moves with you for efficient movement and an effective workout, while the adjustable handles have 5 positions to meet the needs of each user.
The adjustable sleeves can be adjusted to 16 different positions so you can perform a wide range of exercises from different angles.
There are 5 positions for the adjustable handles also.  They use a simple clip and carabiner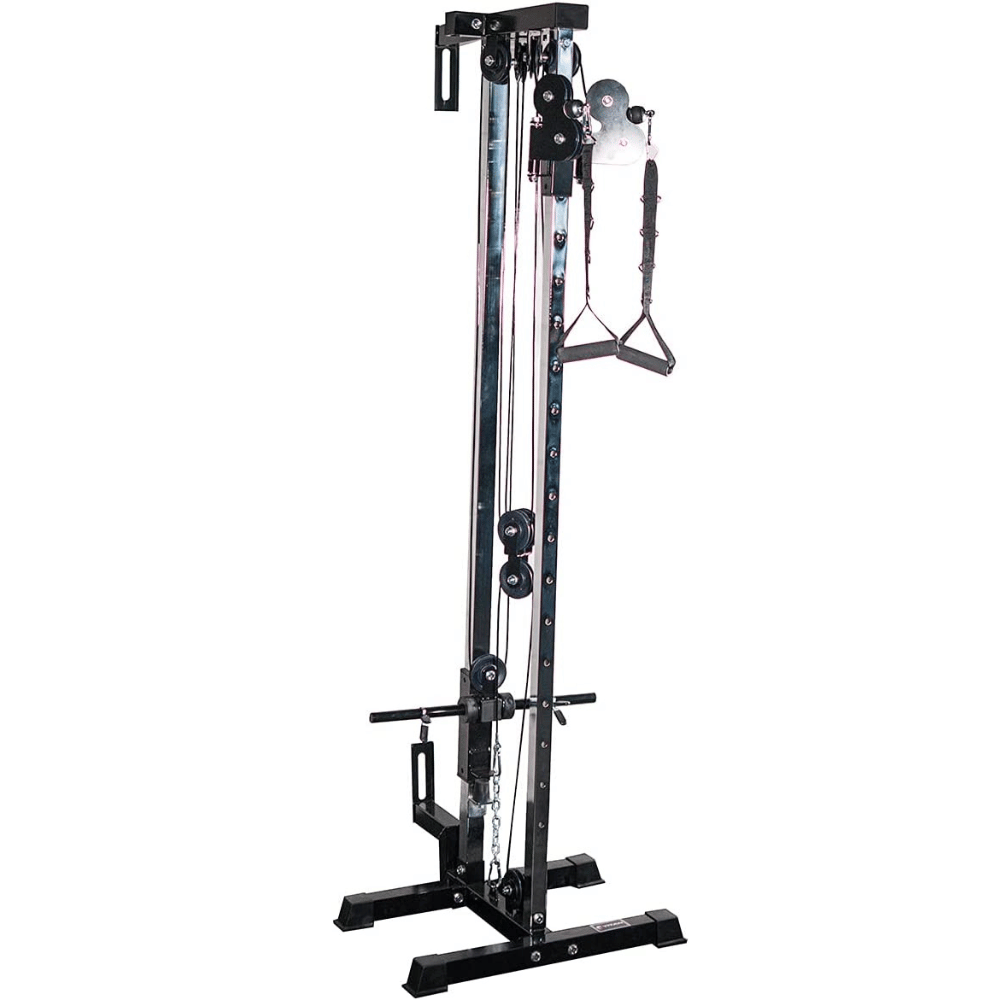 Best Wall Mounted Machine
Titan Fitness Shor Wall Mounted Pulley Tower V3
Check Price On Amazon
Why It's a Top Pick:
If you're looking for a workout that will leave you feeling like a titan, look no further than the Titan Fitness Pulley Tower V3.  This is a wall mounted cable machine.
This bad boy is built with only the highest quality materials, so you can be sure it will withstand even the most punishing of workouts.
Plus, their legendary Titan Fitness construction means you'll never have to question your equipment's stability or durability.
So go ahead and give it your all—with Titan Fitness, you know you're guaranteed the best.
Things to Know:

If you're looking for a space-saving way to add functional training to your home gym, the Titan Fitness Short Wall Mounted Pulley Tower V3 is the perfect solution.
This tower has 18 adjustable positions, allowing you to perform a variety of exercises that will target all the major muscle groups.
The standard 1" weight posts come with spring clips, so you can easily attach any type of weight plates.
The bottom bracket installs into the wall without disrupting your baseboard, and includes dual stirrup handles and rubber feet to protect the flooring.
This machine has a big punch, fits in a smaller location, and is gentle on your budget!
Cable Machines FAQs:
Buying a cable machine can be confusing and frustrating. You have so many questions, and you're not sure who to trust.
Don't worry, we've been there! That's why we've created this list of Frequently Asked Questions about cable machines-so that you can make your next purchase with total and complete confidence!
With our help, you'll be able to find the perfect cable machine for your home in no time. We'll answer all of your questions and help you find the best deal on the perfect machine for your needs.
What are the main benefits of using a cable machine?
A cable machine provides a great way to target both large and small muscle groups, as well as stabilizer muscles, when performing resistance training exercises.
This allows you to create balanced and effective workout routines that can help you build strength, tone muscles, and improve overall fitness.
Additionally, most cable machines can be customized to accommodate different body types and fitness levels, making them a versatile tool for individuals at all stages of their workout routines.
Is a cable machine a good workout?
Cable machines are a good workout because they allow you to target specific muscles in your body.
For example, the cable crossover allows you to work your chest and shoulders, while the low row targets your back.
In addition, most cable machines provide a greater range of motion than free weights or machines with fixed paths of motion, meaning you can move the weight through a greater range of motion, providing a more complete workout.
What is a disadvantage of cable machines?
A major disadvantage of cable machines is that they may be difficult to set up and use for those who are not familiar with the equipment.
Cable machines require some knowledge and understanding in order to operate them correctly and safely.
In addition, some users may find it difficult to properly adjust the cables for their specific needs, which can lead to injury or discomfort.
Ultimately, the best way to avoid these issues is to review the manufacturers documenation thouroughly and get some assistance from a professional if needed.
Are cables better than weights?
There is no definitive answer when it comes to whether cables or free weights are better for strength training.
Cables offer more versatility and can be used in a greater number of exercises, while weights are more affordable and easier to store. They both provide good weight resistance.
Ultimately, which one you choose depends on your personal preferences and what you hope to achieve with your strength training routine.
Final Thoughts About Cable Machines

It's no secret that home gym cable machines are excellent equipment to have when it comes to getting in shape. They offer an intense workout that can help tone your body and burn calories quickly.
But with so many types of cable machines on the market, we hope now you know which one is right for you?
In this article, we discussed the pros and cons of a few types of cable machines and worked on helping you decide which one is right for your fitness needs.
There are other cable machines, but we have done our research.  So what are you waiting for? Choose the best cable machine for your home gym now!
---